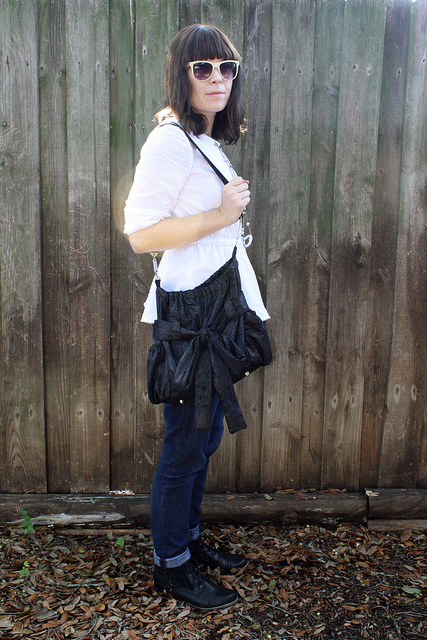 Burdastyle Sewing Handbook Bag
Sorry for being MIA this last week or so. I swear I've been sewing a bunch but taking time to take pics is hard. But now I have much to share with you!
The Goal: This month's Bibliostyles was a choose your own bag-book. Pick and make a bag from any book and come in and review it. I don't own any bag-only books but I wanted to make the handbag from the Burdastyle book (that's another Burdastyle book blouse, too, which I'll talk about later).
The Pattern: The Burdastyle book comes with five basic patterns and each pattern has two variations. I made the second variation, Chie's Variation, with the bow-tie front. I think the instructions in this book are better than in the magazine or online but you still have to add your own seam allowances, which I think is silly for a bag since it's not like you're fitting it. A standard seam allowance for all sides would have been fine. I also didn't like having to flip back and forth between the variation and the original instructions depending on which step I was on. Maybe that's being picky but you really have to pay attention to what step you are on.
Oh and the pattern calls for over two yards of fabric for this bag!?!?! maybe that's to get the long straps in one piece but I only bought one yard for exterior (and had a lot left over) and 3/4 yd for lining. Lay out your pieces first before you go shopping so you don't over buy.
The Fabric: Uh, ok, so I made this bag THE DAY OF the meeting so I was a little rushed for time. I went to Joann and bought this faux suede with metallic bits on it. It's nice because it doesn't fray and it doesn't show needle holes like leather (does real suede show needle holes?).
The lining is a poly, one of those faux silk things that chain stores sell (and yet price them like they're silk, what's the deal with that!?). Both were on sale, which was a big factor in why I chose them.
The hardware came from my Dallas fabric store trip. I'm so glad I got to use them! The purse feet came from Joann, too. Don't look to close at the bottom, they're kind of crooked.
I added some stiff interfacing to the bottom which gives it a nice base but since the rest of the bag isn't interfaced (except the strap) it still slouches when I set it down.
The Changes: Besides the feet and interfaced base I nixed the interior pocket (didn't have time! and I doubt I'd use it anyway, there are two side pockets). I didn't make the second attached shoulder strap (I only had hardware for one and I thought another strap was unnecessary). Also, because the bag is so slouchy I noticed that the tie would drag and pull the bag in tighter making the bow droop. I stitched the bow knot down with a couple stitches to the center front of the bag so it would stay up and not pull the sides of the bag tight.
The Results: I've yet to use it with normal purse related items (it's a big deep bag, easy to loose a lipstick or two inside) but it certainly looks cute! And I got lots of compliments on it. The strap is long enough for shoulder or cross body. I think it will serve as a good winter purse that will go with lots of outfits! I don't know if I'll make it again but if I do I'll try to do the original style with the drawstrings and braided shoulder strap and not interfaced it at all and make it a big, fat, slouchy, boho-style bag.