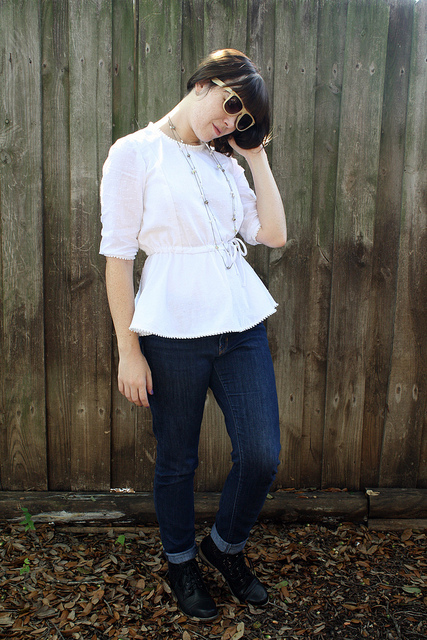 Burdastyle Book Blouse #2
The Goal: I loved my first burda blouse (peplums! yay!) so much so I wanted another.
The Pattern: The blouse pattern from the Burdastyle Sewing Handbook. I made a straight size 38 with a couple design modifications.
The Fabric: The outer layer is a cool, sheer Swiss dot that I bought locally at Fabricker (check 'em out, they have a new online store!). The under layer is just some plain white batiste. The trim is just some poly mini pom pom trim from Hobby Lobby.
I don't often use trim when I sew so this was kind of a treat for me. I'd love to start incorporating more trims and embellishments into my projects.
The Changes: A bunch – I thought the sleeve cap height was too pointy and made a tall gathered poof rather than a nice, spread out gathered sleeve cap. I took a non-gathered sleeve pattern piece from another pattern and used it as a guide to adjust the original sleeve cap.
I shortened the cuffs. I made the neckline slightly larger and didn't make the front neckline slit. It barely fits over my head. I finished the neckline with a bias tape facing.
Oh, and I accidentally sewed the opening for the drawstring off center… but I guess it looks ok so I'm not complaining.
The Results: This shirt totally fits in with my resolution to make more solid color tops to mix and match with bottoms. Sure, it has dots but overall it's all white. And it has sort-of-long-sleeves which is also another one of my wardrobe needs. I'd say this one is a success. And I love this design so much I plan on making a black version with some crochet trim.