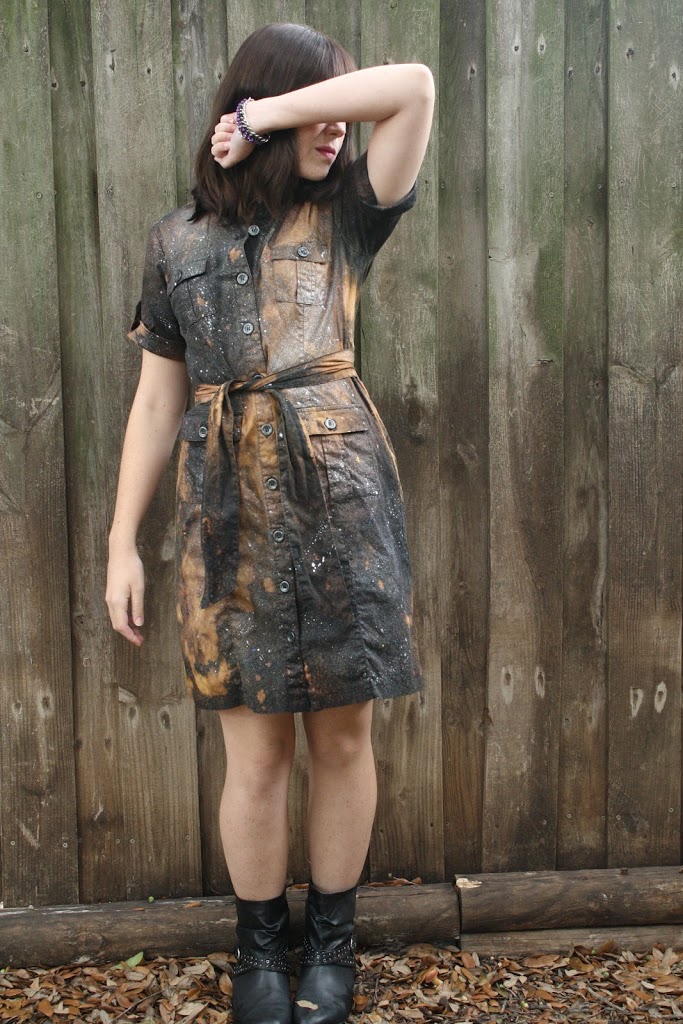 DIY Fails – galaxy print dress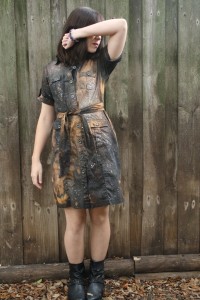 (I cannot be seen in public in this hideous dress)
Damn you Pinterest for making me think that every one of those "pin now, read later" posts are a good idea to try. In fact, there's a whole blog for Pinterest Fails and this week I have two to submit.
One fail was a lackluster diy hair experiment. The other fail was this dress – it's supposed to be a DIY galaxy print dress. I first saw it here and then Elisalex gave it a shot as well. Both of theirs turned out pretty good, I thought.
Here's the deets – lay your item of clothing flat (in my case an old, tired target shirt dress that I never wore anymore, so no big loss). Mix bleach and water in a spray bottle (I experimented with different amounts) and spray over your garment and let dry. Then take fabric spray paint and spray over the shirt all artistic like. Finally use a small paint brush and some fabric paint and dab stars and nebula and what-not all over the place.
Uhhhh, yeah…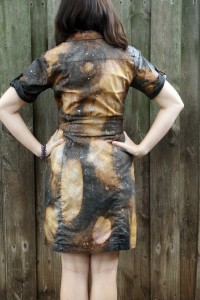 (is that andromeda? no, it's blobdromeda)
Problem #1: I got carried away. With everything – paint, bleach, the whole shebang. I wanted the bleached areas to be whiter like this girl's dress and less orange so I kept adding more bleach and I let bleach "pool" in places which only made blobs of orange rather than a floaty milky-way. My fabric just wasn't going to get white.
Problem #2: Those "blobs" never blended together, especially the ones in the back. The seam line kept the bleach from moving.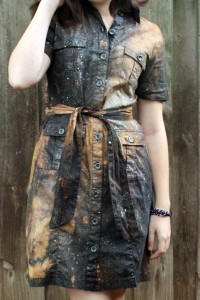 Problem #3: I used the same brand of spray paint as both tutorials but I only bought three colors – metalic silver, and non metalic yellow and purple. The yellow and purple completely soaked in, even on the bleached parts. You can't even tell that there is any paint at all! Only the silver showed up so I went a little spray crazy and the whole thing looks like a sparkly mess.
Problem #4: I don't know what the f— stars are supposed to look like! I just painted spots of blue and white and yellow all over the place with no real plan and you know what? They look like paint spots, not stars. Sadface.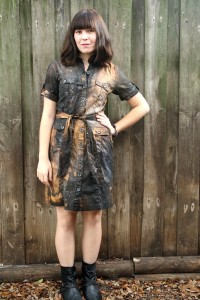 Will I try this one again? Meh, I doubt it. It's not that I don't like the style but I just don't think I have the ability to tell myself to stop spraying more bleach and just let it look more natural, ya know what I mean? I have no restraint!
Have you experienced any Pinterest Fails?