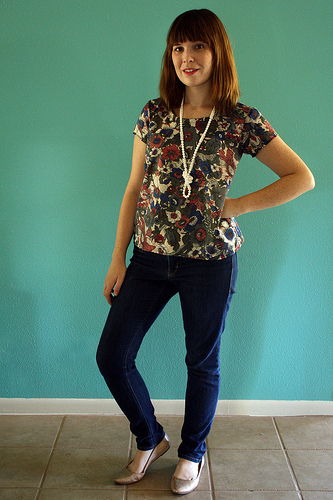 Tiny Pocket Scout Tee Stash Busting
The Goal: Have you ever been in the mood to sew something really quick? Just a need for instant gratification in sewing? I had recently printed and cut out this pattern so it was ready to go. It's not that often that I can finish a project in only a couple hours. This was just what I needed!
The Pattern: Grainline Studio's Scout Woven Tee (with the tiny pocket pattern piece from the Tiny Pocket Tank). I cut a size four and it fits great!
The Fabric: Leftovers from this dress that I finished a couple weeks ago. I had just enough to make it except I used pre-packaged bias tape for the neckline facing because I didn't have enough bias pieces of fabric remaining. It's a floral cotton voile that I bought at a local store. Yay for stash busting!
The Changes: Nothing! Well, for fit anyway. I did add the pocket 'cause I thought it was cute.
The Results: I really like this shirt. I could totally see making easy variations of this top for different looks. This shirt may not fit my resolution to make more solid color tops to go with more items in my wardrobe but it will go with jeans and it's the perfect platform for fancy necklaces. It's a versatile pattern.
My friend Susan, who made this pattern before me, and I were talking about how great this pattern was but I didn't really take that to heart until I made it myself. See, from the line drawing this top seems so simple, unexciting and almost ignorable but once you look closer at the pattern pieces you notice how well designed this little top is.
The sleeves curve gently at the center, giving a nice, angled shape on your arm. The hem is ever so slightly longer in the back than the front so it gives some extra coverage when you sit down in your low-rise jeans but hit at the perfect place in front if you want to show off a belt.
And then there's the no-dart business. Jen Beeman, the designer, shaped the top of the front and back pieces so well that the shirt fits at the shoulder with no gaping at the neck or excess fabric at the armcye and flows below the bust. When you look at the armholes of the front and back pieces the front armhole looks much shorter than the back, which seems odd at first but it totally works and helps to not need any darts. This lady really knows how make some 2D lines fit over a 3D woman's curves and that's skill.