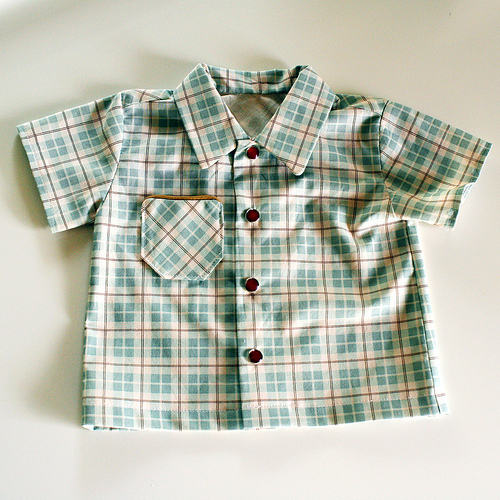 Baby Shirt v2, Kwik Sew 3730
I swear that no less than 4 authors of blogs on my blog reader have announced pregnancies in the last couple weeks. I imagine an influx of baby clothes sewing on the blogosphere in about 6 months.
No, I'm not preggers but a cousin of mine just had a little baby boy so I made this tiny top as a gift for him.

The Fabric: Some plaid quilting cotton from The Common Thread (look at that awesome front pattern matching!!). I don't remember the brand or designer. The piping was leftover from another project. I liked the color combo.
The pearl snaps came from a mixed set from Snap Source. I only had 5 red ones so this tiny project worked well for a tiny amount of snaps.
The Pattern: I've used this pattern (Kwik Sew 3730) once before for a friend who was having a baby.
The 1/4″ seam allowances amke it easy to sew the tight armhole curves and it's quick to sew with a serger.
The Changes: Like last time I cut the back yoke and front pocket on the bias and I also cut a size M which is for 3-6 months. This baby is only 1 month old but I figure people always give parents newborn-size onesies and tiny baby clothes. He can grow into this shirt and wear it for a few months.
The Results: Baby clothes are really satisfying to sew. I used less than half a yard for this shirt and I whipped it out in a couple hours!
Question for those of you who don't have kids – do you ever sew kids clothes for other people's kids, like nieces and nephews and cousins? Or quilts or toys or anything else?