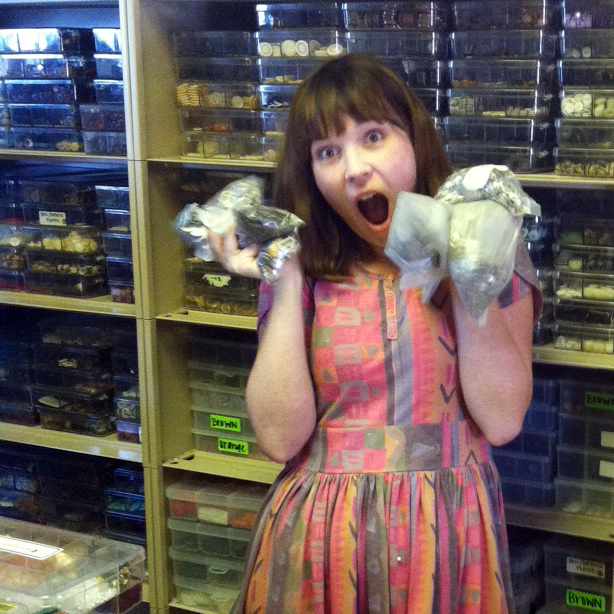 Bring your big hair and guns! It's time for some Dallas fabric shopping, y'all!!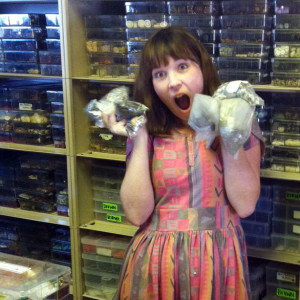 (SO. MANY. BUTTONS!!!!!!!!1!!!!!! OMG!!!!!!!!!)
Last weekend I took a day trip to Dallas with friends for some 102 degree fabric shopping. We stopped by three shops (Super Textiles, Golden D'or and Benno's Buttons) and would have done more had we had more time.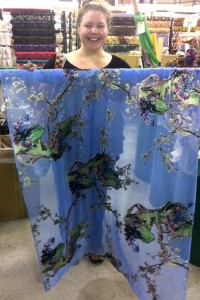 (Susan's fabulous cherry blossom chiffon)
Now, I am not a stash person. I don't hoard or even collect much fabric. I'm a pattern first kind of gal. I have to know what I'll do with that fabric before I buy it so going on this trip and just buying stuff for fun without any real idea of what I'll do with it was challenging. But I did walk away with a few treasures.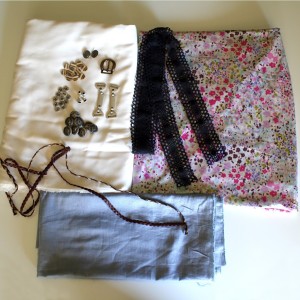 Fabric from the top, clockwise:
A soft, twill weave, white fabric. It probably has rayon in it. I'm hoping it's all rayon. There wasn't a label and the sales guy seemed to think it might have some poly in it. Which isn't great because I bought it to do some dye experiments with it. I guess I'll do a burn test to see if I learn anything.
A cool swimwear print. My friend Susan bought some, too. I think I'm done with making swimsuits for the year but next year…
The softest Italian cotton shirting ever. It was on a remnant table and Susan and I split the yardage. It's softer and drapey-er than normal shirting and has a very tiny chevron weave that's difficult to see from far away. Maybe another BurdaStyle Handbook blouse?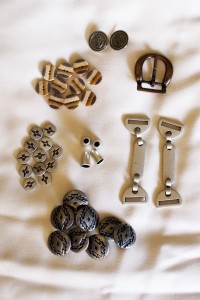 Buttons (Ooh, this is the good stuff…):
Two silver nautical buttons – maybe for those shoulder flaps on a military style top?
Woodedn buttons with burned lines cut in. Because I love me some wooden buttons!
Antique brass belt buckle. Because good belt buckles are hard to find.
Small silver buttons. Because I love metal buttons almost as much as wooden ones!
Some silver things that I'll use as drawstring pulls.
Two weird silver buckle-type things that I intend to incorporate into a handbag.
Some larger, tribal print metal buttons. Maybe for a future jacket??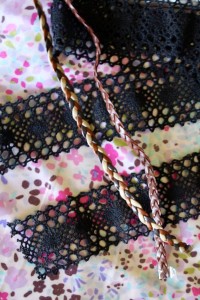 Extras:
Some black cotton crochet trim. Maybe I'll embellish a blouse or dress with it?
A yard and a half each of these leather braided trim. Thinking of incorporating it into a belt of some sort…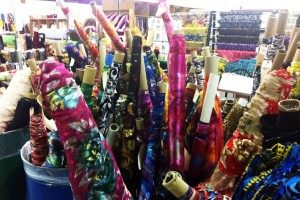 (Fabric rolls at Golden D'or, which I realized just means "Golden of Gold"…)
***On a side note – you can now purchase Dixie DIY patterns on Pattern Review for download! They've got some other awesome companies available, too. Check it out!