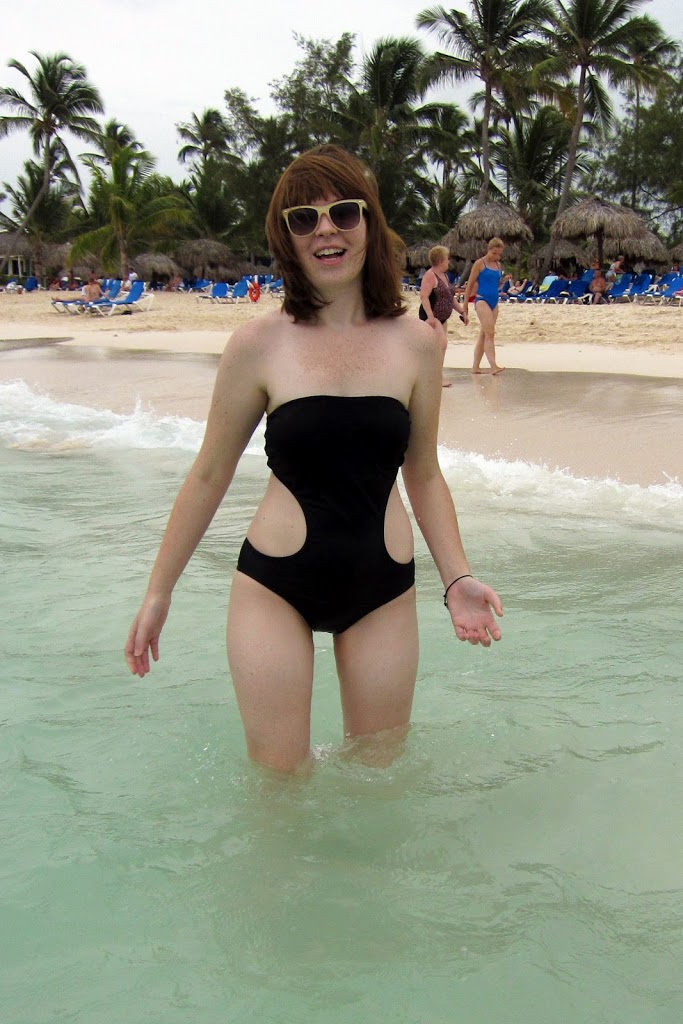 The Week of Swimsuits Pt 2: Kwik Sew 3608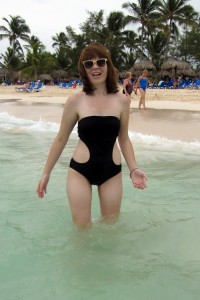 Thanks for the kind words on the last post. Normally I wouldn't even put pics of myself in a swimsuit on Facebook but I guess you guys are special and it's all in the name of "sewing science", right? I also can't deny that these are slightly photoshopped pics – a little birth-mark erasing here, some tan line blending there… you get the idea. Anyway, let's just agree to pay attention to the suit and not the model, ok? 😉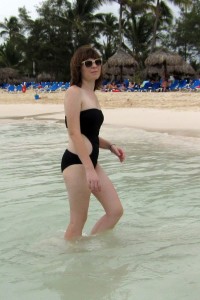 Here's another swimsuit I made and it is probably my favorite because I think the design just looks so cool. It's a monokini from Kwik Sew, #3608, which I think might be discontinued because I can't find it on the KS website. You can still buy it online and probably in stores. I don't know why they discontinued it because it is one of the more modern designs they have.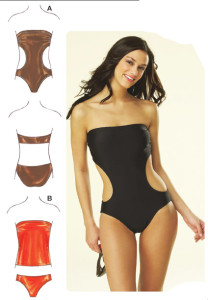 The pattern includes the strapless monokini and a tankini pattern which I like, too. I didn't intend to blatantly copy the envelop design, either. I just had a bunch of really nice black nylon/lycra and used that.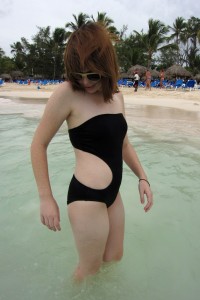 This suit has a nifty shelf bra inside in the lining and some bust gathers on the sides. Again, I added some swim cups that I bought from Sew Sassy.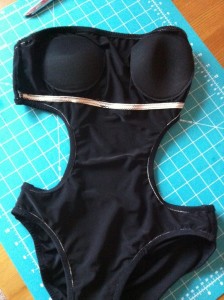 (check out those sloppy stitches!)
Kwik Sew has very good instructions and this suit whipped up in no time! Learning from my purple suit I decided to cut a size S but I discovered that I should have lengthened the suit in front by about 3/4″. When the sizes shrink widthwise they also get slightly shorter. I've lost weight but not height. Something new I need to consider when sewing… Either way it's not too bad and I only had to pull the top up a few times.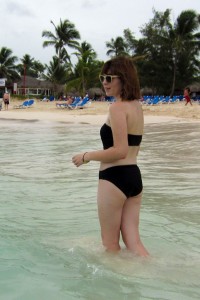 Having never worn a monokini before I was worried that the center front piece would get floppy and loose whenever I'd bend over or sit down. To my surprise that wasn't much of a problem. It stayed in place pretty well without getting folded as I moved around.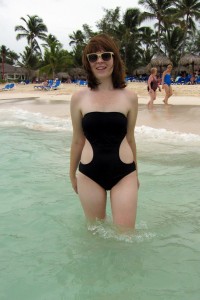 ***A note on the upcoming swim suit sew-along: I'll make a post with a list of swim suit patterns and have a poll on which one we want to make. If you have a pattern you know you want to try out leave a comment so I can consider it. During the voting time I'll post a big list of necessary supplies and places you can find them online so you can order everything you need!