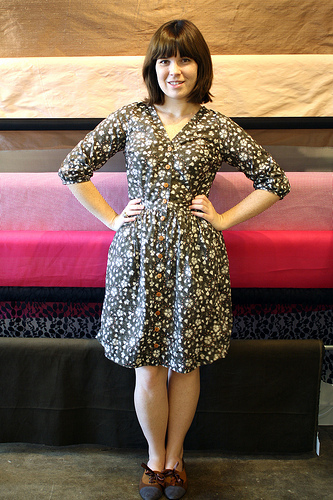 Darling Ranges Redux, or, things are alway better the second time
The Goal: I wanted a comfy and easy to wear dress and because this was the second time I sewed this pattern I finished in half the time!
The Pattern: Megan Nielsen's Darling Ranges Dress. You can take a look at my first version for comparison.
The Fabric: An Anna Maria Horner voile from The Common Thread (also where these pics were taken!). I worried that the fabric would be transparent but luckily that's not the case. I planned on sewing a half slip for this but maybe I don't need to after all. As for the buttons – sure, they don't really match but I'm starting to realize that I *love* wooden buttons for some reason.
The Changes: I incorporated many changes to this version compared to my first. Like the last time I lengthened the bodice by 2in. This time I raised the neckline by about 2in, too. I made sure to stay stitch the neckline (important!). I kept the original skirt length but used a slightly smaller hem than the pattern called for. So the overall length is still a couple inches longer than the pattern is. I'm 5'6″ if you're wondering.
I left out the back ties in case I want to wear a belt with it. I added more buttons than necessary for extra "peep protection."
I also nixed the elastic arm and chose instead to make a small cuff and gather the sleeve into it. This is just a personal preference. I don't really like the feel of elastic on my arms.
The Results: I love it! I like it a lot more than the other dress, partly due to changes I made but also I really like this fabric.
One difference I noticed between dresses – I think the bust dart is a little short for me on this version. It keeps folding over itself which tells me that the fabric has a mind of its own and is trying to form it own longer dart. Funny because I didn't have this problem with the other dress, perhaps because that fabric was heavier and pulled down more.
I can always go back and make the dart longer and I doubt it'll will make the overall bust ease too small. This dress is comfortably roomy at a size M.
***I usually don't make a pattern more than once (ok, there are a couple of exception, like this pattern) but I'm glad I did for this dress. I'll probably make a few more with tweaks to the design here and there because it is such a versatile design!