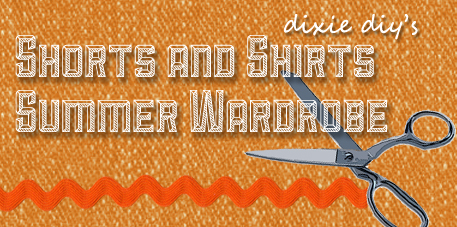 Shorts and Shirts Summer Wardrobe Planning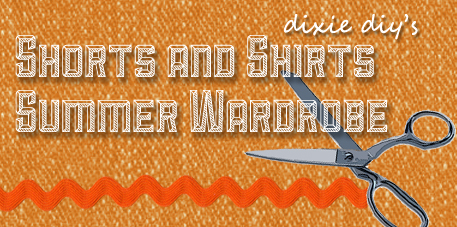 (Oh, look at that! I made myself a fancy graphic.)
I'm jumping on the mini-wardrobe sewing bandwagon and planning a set of 10 (yep, 10!) pieces to make for this summer.
Now, I know you'd might ask, "Hey, Dixie, can you really make ten garments for this summer? Isn't that a lot!?"
But then I'd tell you "Well, two pieces are already made. And besides, summer in Texas means the majority of the year so it's March right now – I reasonably have about 8 months to make all of this stuff before I'll have to go back to wearing pants again." And then I'd give you a wink. 😉
That doesn't mean I'm limited to only making the things in this wardrobe plan. I'm still going to sew lots of other stuff for fun but I like the idea of a handful of clothes that can easily interact with one another and that I can wear all summer.
I'm calling this mini-collection my Shorts and Shirts Summer Wardrobe because, as you'll see, it's all shirts and shorts with a couple extras. No, I don't hate dresses but dresses are outfits in themselves. There's not much mixing and matching going. And last summer I realized that nearly all I wore was a few tops and a couple shorts!
How to decide what to make: After doing my wardrobe catalogue earlier this year I figured out what I wear most, what I wear least, and what gaps I need to fill. Because I practically live in shorts in the hot Texas summer I'm making (or using) some versatile shorts. I also need solid color tops that aren't too plain. I need more blazers – ok, maybe I just want more blazers…
But I also wanted to incorporate some trends that I like – bright colors, bow blouses, chambray/denim, scallops, 70s vintage, and stripes. I also thought about what would be comfy in the summer – loose fitting, flowy tops that don't stick to my skin.

The Color Scheme: I'm going with neutrals mixed with brights – I've got one bright top, one bright pair of shorts and a bright printed scarf. The rest are pretty neutral – gray, black, white, navy, and blue. I love using neutrals as a base and then spicing things up when I want to with a little color. I definitely wanted to incorporate some of the Spring 2012 Pantone colors.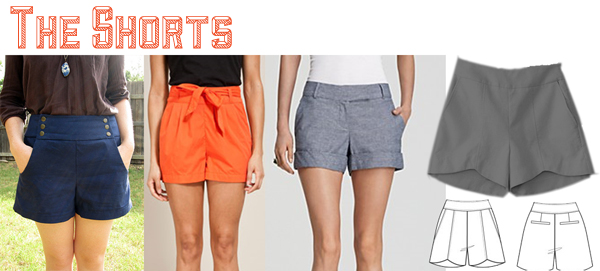 The Shorts

The Shirts
The tennis tee – in white seersucker, a vintage McCall's pattern from the 70s, #5526, I call it the tennis tee because when I first saw the image it reminded me of something someone would wear to tennis practice in the 70s.
The bow blouse – in floral rayon, self-drafted
The pearl snap button down – in gray chambray, possibly from BurdaStyle Magazine 3/12
The drop shoulder tee – in rayon knit stripe, also self drafted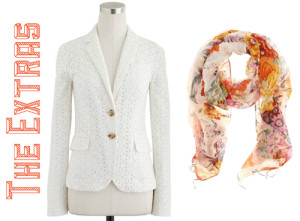 The Extras
The printed scarf – in floral gauze, self drafted (probably just a big square)
The white blazer – in a white floral damask, haven't found a pattern yet
The Extras are like support staff – just in case I want to mix it up or I need a summer blazer for cool restaurants.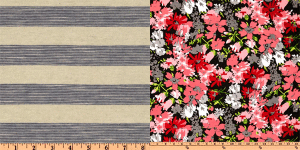 There are some rules: each item has to work with at least three other items or outfits. Most of the tops work with most of the bottoms. I probably wouldn't wear the scarf with the bow blouse because the bow is sort of a scarf in itself. Since I'm making the pearl snap button down out of a gray chambray I probably wouldn't wear it with the chambray shorts but it would work with all the other shorts.
What about accessories? Since I began making nearly all my own clothes the only thing I get to enjoy shopping for are shoes and bags! I plan on buying a couple pairs of shoes for summer to replace old worn out shoes and maybe I'll even make a couple bags?

Progress: I'm working on drafting the drop shoulder tee right now and if all goes well I plan on making a PDF pattern for it. Yay more patterns!
***I've been getting inspiration by looking at others people's wardrobe plans. Are you doing a spring wardrobe this year? Let me know and I'll check it out!
Also, a woman in my sewing group came up with the idea of doing a small workshop of sorts to plan a seasonal mini-wardrobe. Would you be interested in attending something like that and what would you want covered in the workshop?