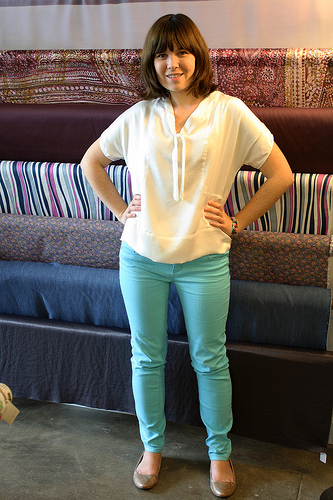 Eva Dress Croquette Blouse, or, way too many sewing challenges
Eva Dress, the company that reproduces vintage and antique sewing patterns hosted their contest again this year and I entered!
I sewed this 1920s blouse for Category 4 – vintage patterns as modern wear.
Now, I don't expect to win. I realize I didn't choose the most challenging pattern but I really loved this pattern and how well it works for a modern style.
I may not have used the most difficult pattern but I used a super difficult fabric – white stonewashed charmuese (which is also difficult to photograph).
The contest has four categories and so many of the projects are absolutely stunning! You can read more about the rules for voting on the Eva Dress blog and you can view all the entries here. If you want to vote for me I'll be very happy but, please, vote for who you think deserves to win, whether it's me or someone else.
And on the topic of sewing challenges- this month has been full of them. Not all are contests like this but I'm doing a Sew Weekly challenge, Tilly's One Week, One Pattern challenge (I'm drafting my own top pattern), then there's Pattern Review's Swim Wear contest and Julia's Mad Men Challenge. All this before the end of March! And later this month through April five bloggers are hosting That's Sew Cinematic – a challenge to sew something inspired by the silver screen. Uh, can anyone say "striped dress from Breathless"!?! Yes, please!
I don't think I can do it all and I think Mad Men is going to have to take a back seat, unfortunately.
Ugh, it's a lot on my plate for one month. Are you doing any challenges this spring??