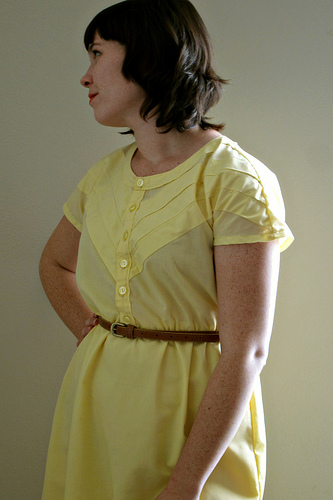 Yellow Chevron Dress
As promised, here is my new finished dress. It is a knee length pullover dress with an elastic waist (here worn with a belt), buttons on the upper front and diagonal chevron style folds on the top front that are sewn down so they lay flat.
I originally made this dress design about three years ago but now I cannot find that dress (must be lost in the garage, I believe). It was inspired by a vintage romper I found online. The original dress was yellow as well so I kept that color for this one.
Since the buttercup yellow color of the dress was important to me I went with color over coverage. If I make this dress again I would use a thicker fabric. Realizing this I decided to line the skirt portion of the dress with an layer of the same fabric. I might go back and line the top as well… maybe, if I'm not too lazy.
For some reason I'm a little obsessed with this kind of sloped sleeves, rather than set in sleeves. This type of sleeve was really popular in the 50s, I've noticed. I just like how easy they hang. On this dress it also adds some interest because when you have your arms at your sides it looks like the stripes slope down on your arms – sort of like a zig zag on your upper body.
And to answer the question on everyone's mind – when are you going to have a pattern for it? Unfortunately the answer is probably in about a month. Not only does this dress feature several pattern pieces that need to be transferred to the computer and sized but I also want to take time to work on making good instructions with images and make sure all the details are extra special. I'm steppin' up my game with my next patterns I don't want to rush things but I promise it will get done.
On a side note – I cut my bangs! It's a new look for me. I've never had bangs like this before and I'm not exactly sure what to do with them. Kind of a bold statement for me but I'm going to rock 'em and and see if they grow on me.