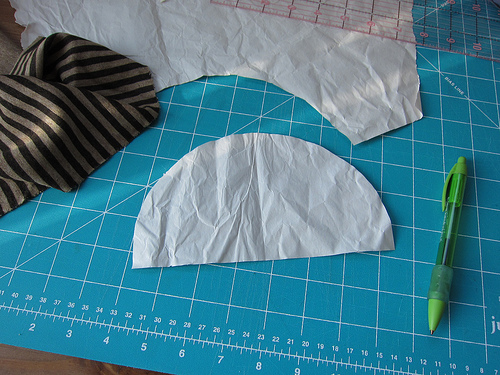 Using Scraps: Baby Hat
About a month ago I found this great idea for a baby hat from Make It and Love It and thought it would be an awesome way to use up some scrap fabric!
This brown striped knit fabric was leftover from my T-Shirt Mini Dress.
My printer isn't working so I just copied the directions for the pattern from Make It and Love It.
I used the pattern to cut out two pieces for the hat.
Then I cut two rectangles for the bottom of the hat.
I serged the curved edge of the hat and the short sides of the rectangles.
I folded the rectangles in half…
…and pinned the rectangle to the straight edge of the hat and serged.
Here's the finished hat.
And here's the finished hat with the bottom folded up.
It is supposed to fit a 0-3month old baby. Justin's sister is having a baby boy this summer. Hope it fits! The brown stripes are perfect for a little boy.
Since I don't have a baby around to test it out I had to test the fit on my cat. Yes, you read that right. Luckily for everyone Peanut decided it's not her style.