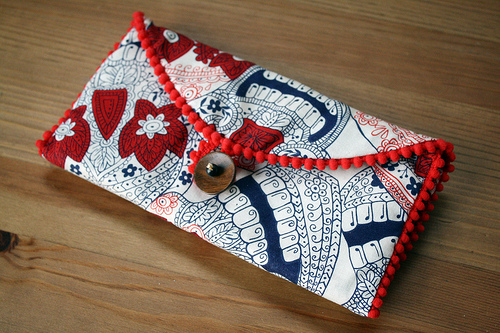 Dia de los Wallet
I'm coming down with a cold and being sick makes me grumpy and lazy. I finished this wallet two days ago but I haven't shared it because I had hoped to make a pattern for it. I still intend to draft the pattern (it's pretty simple, mostly rectangles) but it is difficult to find the motivation when you're hacking up your right lung. For now I'll just show it to you.
Remember this fabric I bought? Well I decided to make a wallet out of it – something I needed badly as my old one is crumbling to pieces.
I trimmed the wallet with some red pom pom ribbon (is that what you would call it? I don't know.), added a pocket in the back for change and sewed on an old vintage for a closure.
Unfortunately with this wallet you can't appreciate this awesome Dia de los Muertos skull pattern fabric. But even in small doses the pattern is still beautiful and it isn't until you take a closer look at the back all spread out can you really understand the pattern. It is almost like a little secret and only those who pay attention will notice.
Inside are three card pockets and two bigger pockets, one for money and one for a checkbook. Cute and functional!
Well, now instead of working on things like I ought to I think I'll just chug a few more Zicam, cuddle up with Peanut in bed and play some video games or take a nap. Being sick is lame.