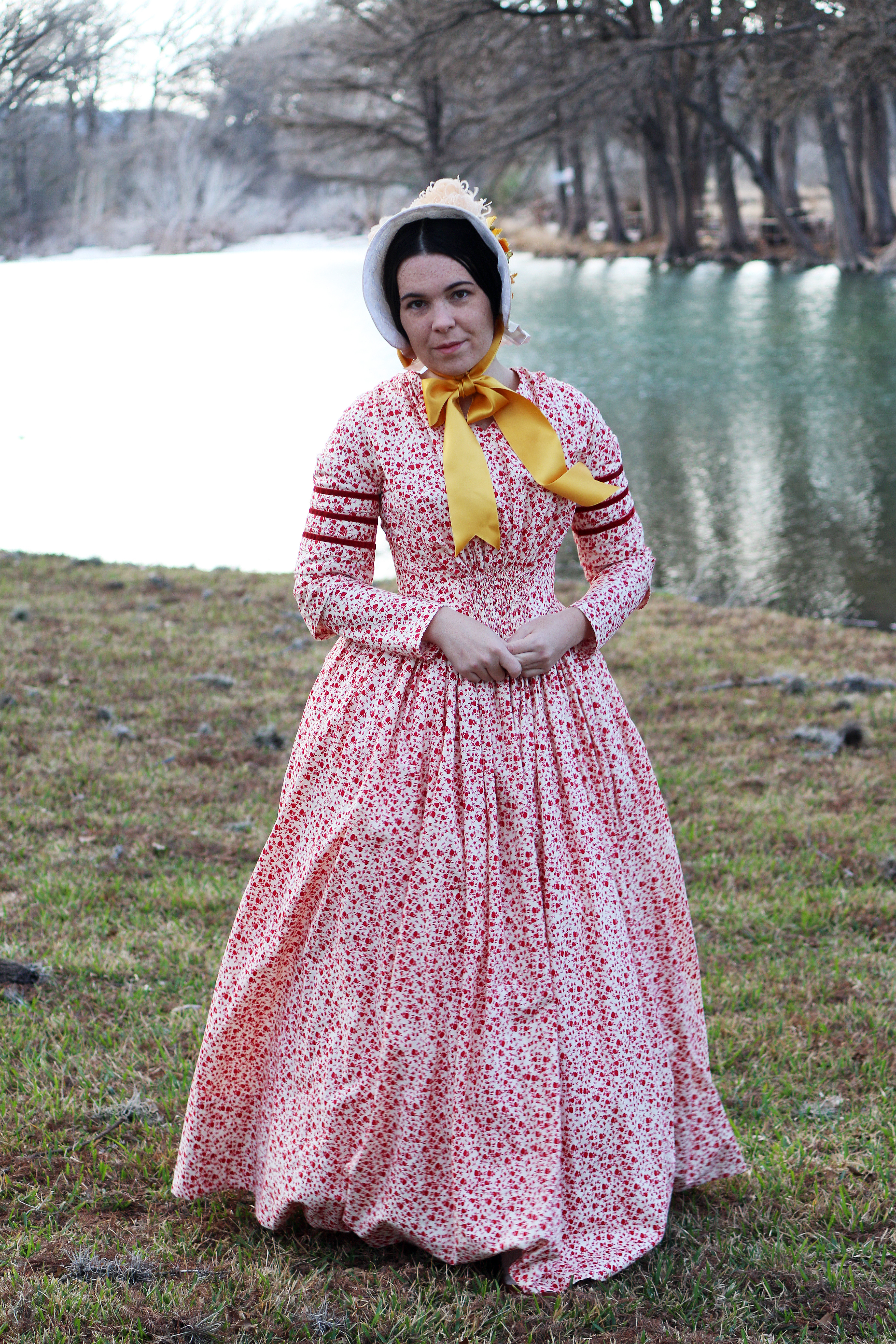 Historical Costuming: 1840s day dress and bonnet
After what seems like years I've finally finished my 1840s costume. I completed the dress months ago but the bonnet languished unfinished until recently.
Underneath all of this, I'm wearing my Victorian undergarments (including four petticoats!), silk stockings and brown leather ballet flats (not exactly period accurate but close enough for now).
Let's talk about this dress:
The pattern is Laughing Moon Mercantile #114 with some minor adjustments. I made View B but with the flat back of View C. I added velvet ribbon on the sleeves based on some extant dress which I can no longer find online. The sleeves of View B are actually three layers (difficult to see in this print), the uppermost layer is pleated three times, hence three rows of ribbon.
The rose print fabric came from Joann. Is it period accurate? Not exactly, but I have seen red and white cotton extant dresses from the time period.
I also had to sew several more rows of gathers in the center "fan" front at the waist to rein in all that excess fabric. From other reviews I have read, this seems to be a common fix.
Other than that, the dress fit me quite well out of the envelope with the exception of some ripples on the back. Not sure if that is due to my corset or if I simply need to slice off some of the length in the back.
If I were to make this pattern again in View B I would choose a much thinner fabric. The fabric I used was too thick at the armhole seam (this style has very dropped shoulders). With added piping, that seam had 5 layers in it!
The skirt is cartridge pleated. I did this so long ago now, back when I was a beginner at costuming. If I were to do it again, I'd make my pleats smaller and tighter.
The dress closes in back with hooks and eyes so you need help to put it on.
This "coal scuttle" bonnet is what kept me from finishing this costume. It seemed a daunting task to create an entire buckram and wire framed bonnet from scratch but it wasn't that difficult to sew when I actually sat down to do it. The pattern is Timely Tresses' Ada Gray mid 1840s bonnet. It's mostly hand sewn.
The main fabric is ivory silk taffeta from some website I don't remember now. The ribbon is also from Timely Tresses. The feather and vintage velvet flowers are from Etsy. The body of the bonnet is lined with linen and gathered white lace. The bravolet (the little skirt in back) is lined in net.
The date I was going for with this outfit is 1847 which is right around the time Texas joined the Union. These pics were taken on a short overnight trip to Leakey, Texas on the Frio River in the Texas Hill Country. I might be able to wear this outfit to some kind of Texas history event but for now, it's just another fun costume to have.