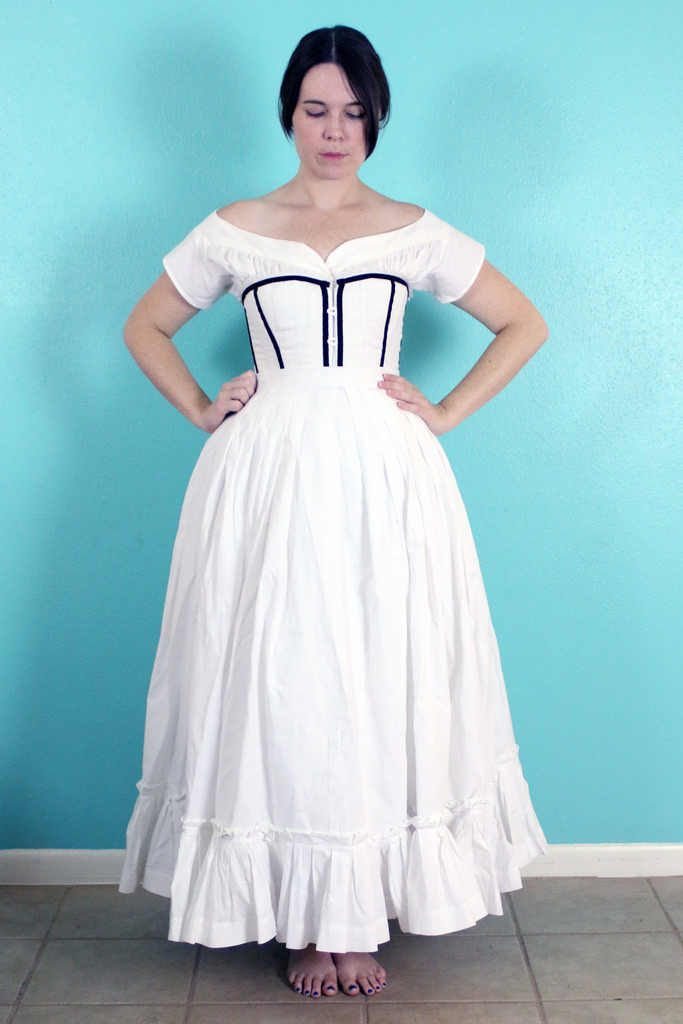 Mid-Victorian underthings
Warning: this post is long. I'm sharing six (!!!) pieces I've made. All for costumes.
I'm working on several historical costumes right now but this group of garments is for my 1840s costume.
Some of these items are more 1860s/Civil War era, others much earlier, but they can still be used for the 1840s.
Let's start from the innermost layer and work our way out…
Made of white muslin, the chemise was like a big oversized 18th century t-shirt. It keeps sweat from getting on your corset (which cannot be as easily washed). Women would have had a bunch of these in their wardrobes, way more than dresses themselves.
I used Simplicity 2890. Had to remind myself that Big 4 costume patterns like to double down on the ease factor. Originally it was way too big at the shoulders so I cut a size smaller yoke pieces and re-sewed it.
In this era women would also wear "drawers" which are like big, poofy , open crotched bloomers, however I haven't made any yet.
Made with plain white coutil and steel boning. The Silverado version of Laughing Moon Merchantile's #100 pattern, which is the longer style with the bust gussets. Only, not knowing how to properly pick size, the bust ended up too big and I had to hand sew the gussets smaller. If only I had seen this adjusted size chart earlier.
It's not the best, but it'll do for now. It's still decorated for my Elizabeth Comstock cosplay.
Bum Roll:
I used random cotton stash fabric and 1″ wide cotton twill tape. Originally from Simplicity 3727 but it ended up HUGE. Like, obnoxiously big, so I made it about half the size by cutting out the whole back seam and sewing it up again.
Much better. With all the petticoats and the final dress weighing it down it does actually look pretty nice.
Corded petticoat:
White muslin and yards and yards of 1/6″ cotton cording. This was a common item in the days before metal cage hoop skirts. Rows of cording plus lots of starch helped the skirt stand away from the body, accentuating the bell shape that was popular at the time.
I based the petticoat on a bunch of extant examples found online and modern versions made by costumers. Originally I used the width of two lengths of fabric (90″) but that made the skirt so wide that it would fold in on itself. I lopped off about 10″ of width to compensate.
I sewed a total of 40 rows of cording in 5 row groups spaced about 2″ apart. I would have done more but frankly I was sick of it and gave up. I then pleated the fabric into a waistband made of twill tape with a side opening.
Middle Petticoat:
White muslin, 1″ wide cotton twill tape, all hand sewn! Yep, that's right. I sewed this entire petticoat by hand! So accurate! BASK IN MY ACCURACY!!!1!
This is technically an 18th century style petticoat which is fine, because it works well in several eras.
I followed this basic tutorial. It's 36″ long because I used 36″ wide fabric and put it lengthwise around me.
It's basically two pieces, seamed partially up the sides, hemmed at the bottom, and pleated to two separate lengths of twill tape ties. The twill tape folds over the raw edge, encasing it like a binding. You end up tying it on kind of like an apron.
The box pleat in front keeps it nice and flat at the waist and the knife pleats go all away around to the back.
Outer petticoat:
And the final petticoat! White muslin, two hooks and eyes. This petticoat is huge! It's from Butterick 5831 but the original pattern called for an 8″ wide eyelet trim. Ha! Like I could find 8″ wide trim, and even if I did those things are like $20 a yard.
So instead I went with a long gathered strip of fabric. But I had a hard time getting the gathers spaced evenly on such a long line (this skirt is like, 5 yards wide) that eventually I thought "You know, maybe pleats would be easier?"
They were not. But at that point I was committed. Committed to 15 freaking yards of pleated fabric. Yet it is complete so I am happy now.
All together it forms the basis of the early Victorian era silhouette – slopes shoulders, nipped in waist, and big wide bell-shaped skirts with some emphasis in the back.
I even tried to do my hair in the standard – middle part, pressed down over the ears style but my hair isn't long enough to stay in place.
And after all this work to look "accurate" for these pics, I completely forgot about my bright blue toenails. Oh, well, can't fix it now.
All I need at this point is to finish my bonnet and hem my dress and I'll be ready to show off my full outfit.