Maternity Chalk and Notch Fringe Dress
This is a maternity-modified Chalk and Notch Fringe Dress. And how lucky, because Chalk and Notch recently released an updated version of the pattern just in time for me to use it!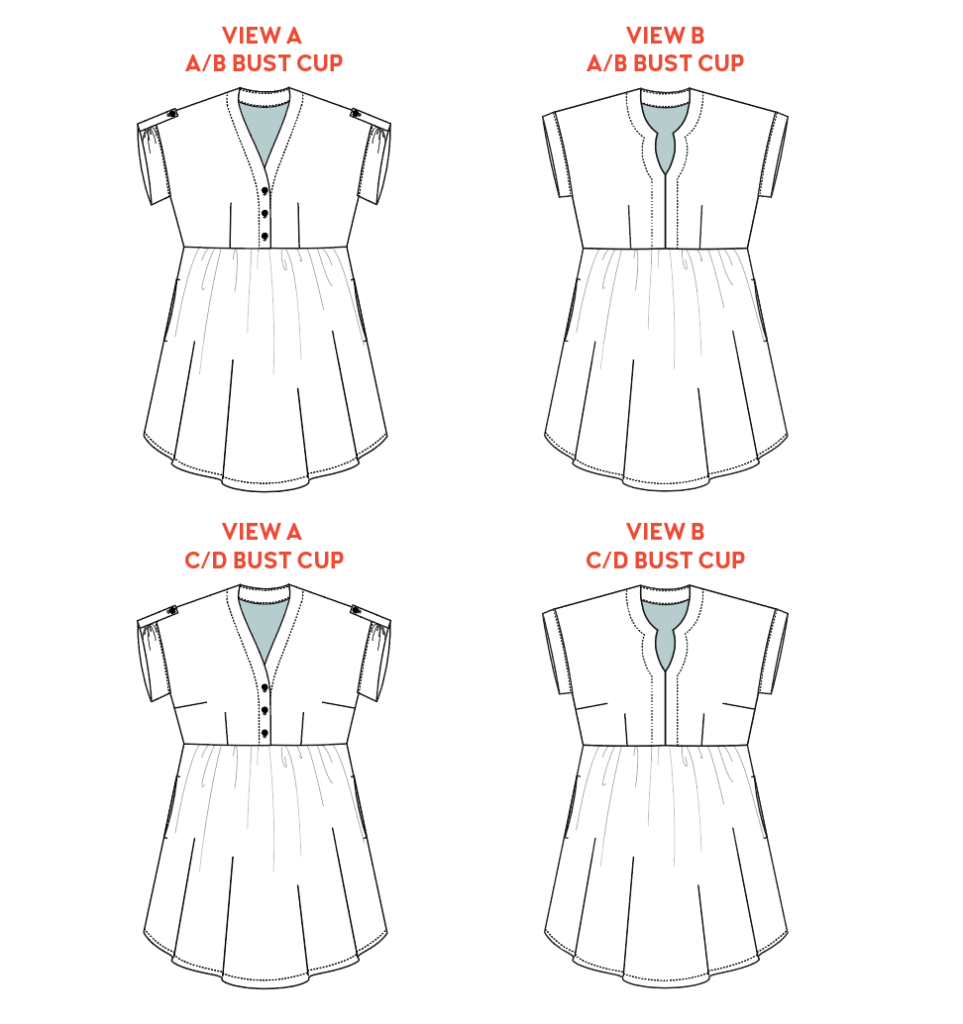 This is my second Fringe Dress, and while I can still fit into that dress right now, I'll probably run out of room soon. I wanted to make another version that could carry me through the next few months and even after pregnancy.
The linen fabric is from Joann. White thread runs one direction and the colored thread, the opposite, so it creates a subdued rainbow effect. I had to buy extra fabric to accommodate my pattern changes and the alternating stripe direction. Plastic buttons came from my stash.
This time around I decided to try View A with the front buttons (nursing friendly? we'll see…). I knew I'd need to make a few changes to the pattern. I cut one size larger than last time but even with my maternity body changes, I still only needed to make the A/B cup size. It's actually kind of roomy in the bust right now, but that'll change over time, too.
I also lengthened the skirt significantly. I liked the curved, dress-shirt hem style but some of my dresses lately have been getting a little too short in the front. My first Fringe has a similar problem, except it's the sides that are inching upwards as I grow. So I made this dress midi-length to combat that issue. I'll probably re-hem it post-partum but it's good for now.
Maternity Pattern Adjustments I made:
Shortened the bodice at front and back waist by 1″
Widened the front skirt by about 6″ (the extra fabric gets gathered up but gives more room in front, I didn't add extra width in the back)
Lengthened the skirt pieces by about 5″ (1″ added to offset the loss of length in the bodice, the rest to make the skirt longer to accommodate a growing belly without the skirt becoming too short) and adjusted the pocket placement down an inch to account for the shorter waistline.
As for the pattern itself. Since I'd made it before it was a quick sew. Instructions are straightforward and easy to follow and I like the details like reinforced pocket seams for better structure.
In my eagerness to sew this dress I forgot to add the ties in the dart seams as the pattern calls for. Instead, I had to add them to the side seams, which works just as well. I like the option of ties because it allows some shaping without being too tight around the ribs.
Another unexpected change I had to make was to the sleeves. In the pattern for View A, the sleeves are rectangles folded in half and stitched to the armholes. The sleeve tab then scrunches them up. This would look lovely in a drapey rayon but in two layers of my stiff-ish linen, it just looked like a bulky mess. I trimmed the length of the sleeve significantly. Now it looks more like the cuff on View B but I kept the cute sleeve tab.
I made this dress for a party and I love the summery, colorful stripes. The linen will be great for hot weather. Plus, I feel like I can get away with wearing extra bright colors and bold prints 'cause I'm pregnant. Like I have a certain freedom in my wardrobe because I don't need to dress like an adult or in clothes that "flatter" me. I can just wear whatever I want, who cares? And I finally feel like I "look" undeniably pregnant, at least in most outfits.
Obligatory bump-holding photo. I'm 29 weeks now. Only a couple months left to go!