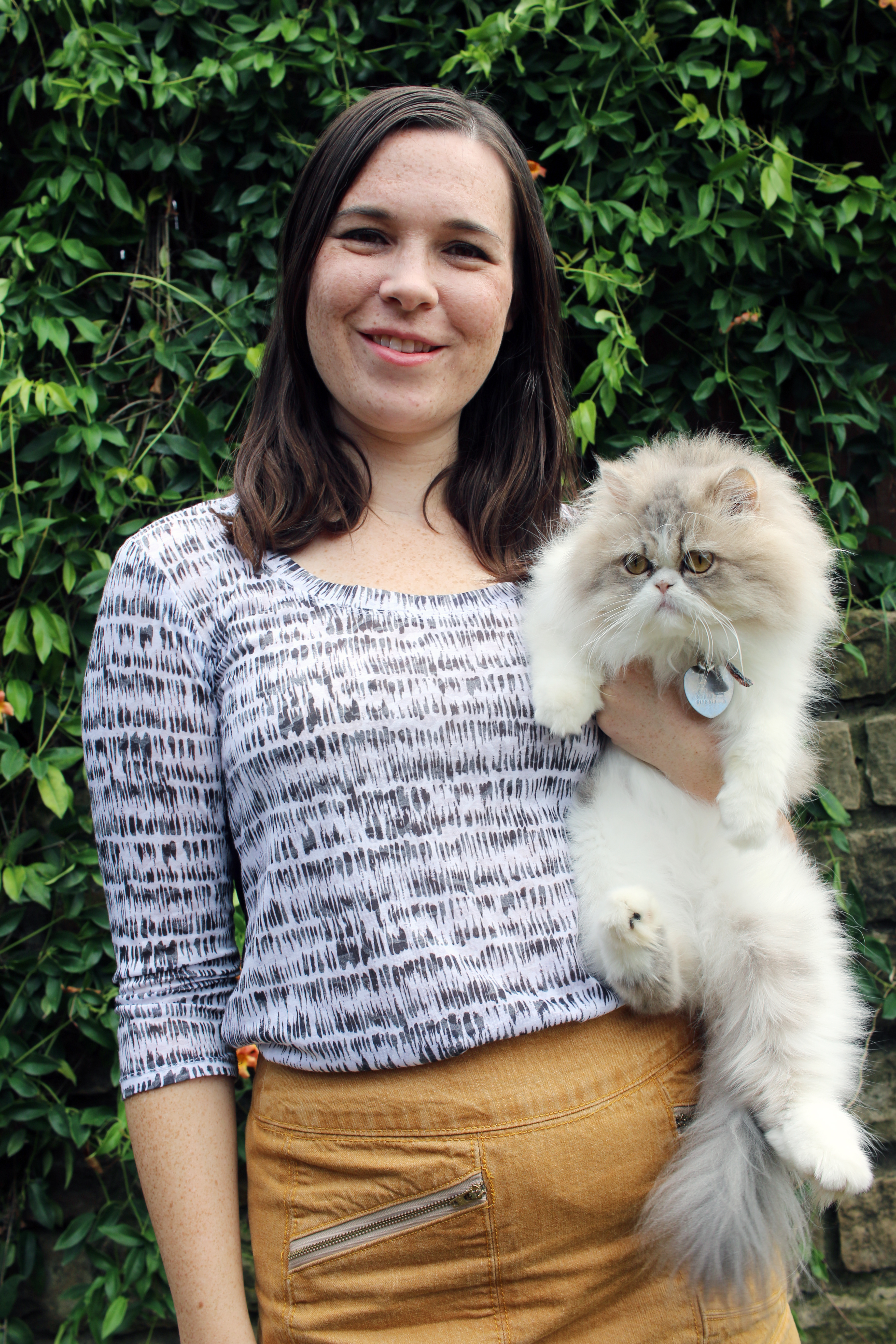 Two Plantain Shirts (plus bonus adorable cat)
This post has an extra special appearance from Betsy – my relative's adorable fluffy Persian kitty. I can't tell if she's annoyed with me holding her because her face always looks like that. Either way, she's super nice. My cat, Peanut, would never let me hold her like this.
Both of the knits for these two shirts are from LAFinchFabrics.com.
I bought them for other projects which have been cut out but not yet sewn. Luckily I had enough left to make a couple Plantains – the free shirt pattern from Deer and Doe.
This shirt is made with a lightweight but pretty stable cotton poly blend jersey with a very slight, barely noticeable burnout. Best of all it was THREE DOLLARS for two yards! Let me repeat that – THREE WHOLE AMERICAN DOLLARS (plus shipping obvs)!!!!!
Unfortunately, I didn't have enough leftover fabric for the back but I had just enough of some scrap black rayon jersey that was nearly the same weight. I also used that black to cut out the elbow patches.
I didn't make any fit changes other than grading between sizes from the waist to hips. I like the way the shirt flares at the hem – good for a pear shape like me.
Onward to Plaintain Part Deux:
This one used a denim (it's a heather-ish blue on the outside, white on the underside) french terry that is super lightweight and drapey. It's like it was made for this pattern. Too bad it's now sold out.
My serger is on the fritz right now so I sewed both of these with a zig zag on my regular machine and used a twin needle on the hems and collar.
One thing I loved about this pattern is the neckline. I like the wide round shape and the collars on both shirts sit nice and flat. I know every knit is different and there's no way of knowing if a pattern's collar piece is going to be too long, too short, or just right. It's often trial and error, but for both shirts the length was perfect. Like, it's the Goldilocks collar!
Sometimes you need a quick sewing project to get your sewjo back. I hadn't made the Plantain before but both of these shirts came together in only a few hours.
Well, that's it for today but because you deserve it – here's another cute cat picture. Betsy says "Happy Sewing!!"