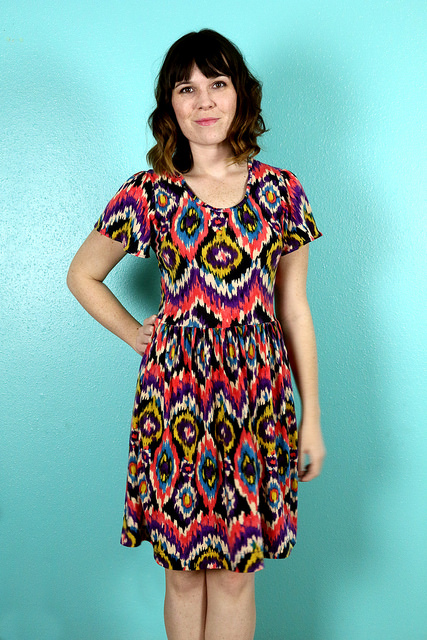 Sew Caroline's Out and About Dress for Sewing Indie Month
Sewing Indie Month continues! Today my tutorial goes live on SewCaroline.com and I made Caroline's Out and About Dress pattern to go with it.
Caroline is a sweet and fun gal from Ft. Worth, TX (yay Texas!) who blogs about handmade fashion, food and DIY. She's got a bunch of easy, quick and totally doable tutorials that are worth taking a peek at. AND she designs patterns! Take a look at her newest Sugar Pop Top and Tank Dress patterns.
I wrote up a little tutorial on how to draft flutter and tulip sleeves from any pattern that has a sleeve piece and altered the Out and About Dress for an example.
So let's get to the details:
The Pattern: The Out and About dress is such a great jumping off point for modifications. It's a classic knit dress with scoop neck, short or long sleeves and knee length or maxi gathered skirt. You could easily alter bits here and there and get a different looking dress every time. One thing I often find about indie patterns is you really get your money's worth because they become staples that you sew over and over again with minor changes each time.
The Fabric: Some cotton ikat jersey from my stash. I bought this stuff at Texstyles almost back when they opened. I had vague ideas with what to do with it that never solidified so I'm glad I finally found a good use for it. It's quite colorful and will make for a fun summer dress.
The Changes: I cut a size S at the bust and went down to an SX at the waist and I think it turned out pretty good.
Obviously I added flutter sleeves with a bit of gathers at top. Check out the tutorial on how to do that!
I also experimented with a different neck binding. I used the same pattern piece but sewed it on like bias binding and top stitched the whole thing with a zig zag. I hadn't tried that style before. I like the different and I think the zig zag on top looks pretty neat.
The Results: Justin says this is the best fitting dress I've made – to which I immediately think, "What? Have I just been making sacks all this time?!?!" I guess I'll take my compliments where I can get them. He's right, though. It does fit very well in the bodice.
As for the pattern I liked that she included pictures along with lots of little tips that would really help a first time knit sewist (like how the collar piece is supposed to be shorter than the neckline or adding EZ Seam to the bottom of the dress to get a nice clean hemline). If you've been sewing knits for awhile you'll whip out this dress in a flash. Even with drafting an entirely new sleeve piece I think it took me only a couple hours.
Big thanks to Caroline for hosting my tutorial and for making a great pattern to go with it. And thanks to Sewing Indie Month for bringing us together!