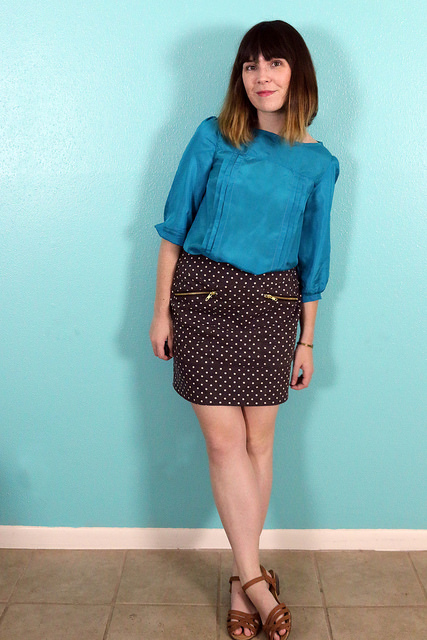 Dotted Mini Skirt
This is the product of my first test print of my soon to be published (and by "soon" I mean in the amount of time it takes George R.R. Martin to publish his next book) skirt pattern.
The first test print is exactly what it sounds like. I digitized my pattern, graded it and re-printed it out to compare it to the original pieces. This is the first – but certainly not last – step in the testing phase.
It's important to figure out any obvious issues like, for example, that I somehow missed adding seam allowance to the center back of the waistband pieces. Oops.
Or how there's no way I'm going to be able to fit the bottom band piece in one long section in the upper size ranges. It will just be too long for the width of the fabric so I need to chop that piece into at least two smaller pieces.
Also, large sizes might require longer zippers for the pockets so I'll need to decide if I put different zipper length requirements for upper and lower sizes or just make all sizes use the longer zipper?
Usually by the second test print all these main problems will be dealt with. Since I'm expanding my size chart I might get someone who fits a larger size to test because the upper sizes will be drafted from a different block than my size. And if all that is good to go I can move on to asking all you lovelies to test for me!
You've seen this design before with the zip pockets and lots of crazy seaming (which is easier to see in my previous version).
This time I made it out of a brown dotted cotton/linen blend from Cloth Pocket. It's medium weight and I added interfacing to the waist. Facings and pockets are just some light blue cotton voile I got at a fabric swap.
I also made this one slightly longer than my gold version by about 3/4″.
I topstitched all the seams, too, but it is difficult to see because the thread blends in perfectly with the fabric. I like the topstitching, though, because it keeps the seam allowances flat on the inside and makes it easy to stitch down the facings without needing to do it by hand, or stitch in the ditch, or use some trick around the top of the back zipper. Easy peasey and it looks nice too.
For the next go around I might try a striped fabric. I want to see if the seaming allows for some cool chevron effect action.
Oh, and I'll share more about the top I'm wearing in an upcoming post. 😉
***************