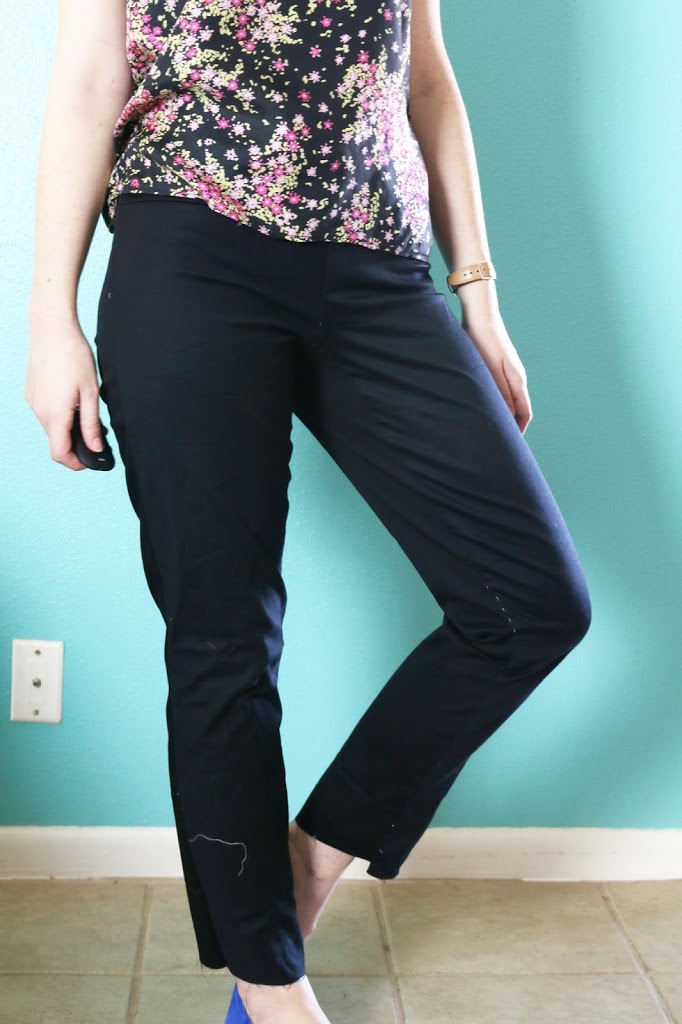 The Colette Clover Muslin version 2
Yesterday I posted my 1st version of my Colette Clover muslin, here's muslin #2. Some caveats for this version, I didn't add interfacing to the waistband so it's a little droopy and I didn't iron any seams (or some fold lines out of the fabric, either). Still it's quite an improvement over the original, completely non-adjusted version.
I'm learning a lot of about my shape in relation to this pattern. Apparently I have wide hips, skinny thighs and big calves. Gotta work with what you got, right?
I'm still using the same fabric and pattern so I'll just skip to the changes.
The Changes for this version:
Lowered the waist by 1.75″, now I think that's a little too much, going to add some back for version 3.
Took a wedge out of the hip at the side, both front and back, tapering to nothing at CF and CB and smoothed out the side seams slightly. Now my side seams are much smoother. Any ripples I think are from not pressing the seam.
Added a full inch to the back rise. Now the back is slightly higher than the front, just as it should be for a lower rise pair of pants.
Added width to the calf area, mostly on the back piece. Now my pants look ankle length and not like capris.
The bum is nice and smooth. Maybe a little too smooth. I think this fabric is going to be reserved only for muslins…

Changes for the next version:
Add some height back to the waist. I still don't want to have the darts so I'll just shave a minute amount off the side seams and CB to compensate, it would just cover the very bottom of the back darts anyway.
The center back was gaping slightly without the waistband so I sewed deeper seam allowances at CB tapering to regular 5/8″ about 3″ down. I'll need to apply this to the next paper pattern.
Small thigh adjustment. Those back wrinkles (and some in the front) haven't gone away. I'm going to try to take out most of the excess from the back and inseam, as that seems to be where the majority of the wrinkles are and try to adjust the knees both front and back. I'll need to be careful to only fix the thighs and leave my newly widened calves alone.
As for those pesky pull lines at the front crotch. I don't think they'll every go away completely but I have one more trick up my sleeves, sew the seam allowance at that center crotch point slightly smaller to widen the front pieces at the hips, should give me a little more room for the lines to soften out.
Every time I sew with a stretch woven I have the problem of my finished garment stretching out. To combat this next time I'm going to take out 1/2″ total from the hips and waist. And try to pre-stretch parts of the pieces with the iron. I don't want to be constantly pulling up my pants, ya know!?
The Results: It's definitely better. If I'm lucky I'll only need one more muslin.
Also, on a side note. I wanted to send a big thanks to all the readers and bloggers sewing up my Summer Concert Tee right now. There's been so many I can't even keep up so thank you all! If you haven't gotten the 1st Perfect Pattern Parcel and want a deal on my pattern and a bunch of other awesome designs, go check it out right now before it's too late!