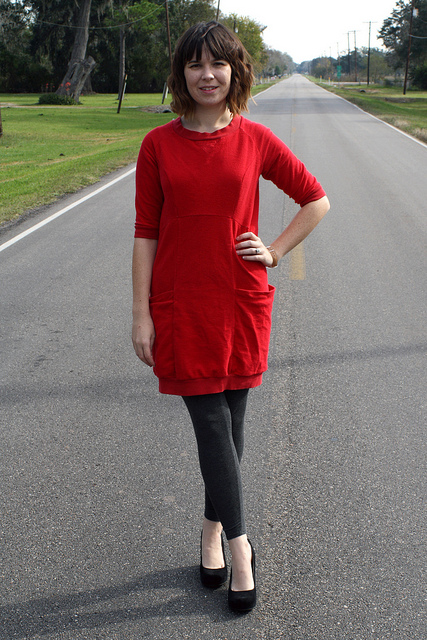 Victory Lola Revisited
This Victory Lola dress is actually a pattern I made almost two years ago (whoa, I had purple hair back then, remember that??) but I lost weight and it was awkwardly oversized on me. So it sat lonely and sad in my drawer for months.
Then Miss Lulu made a cool sweatshirt version of this dress and it inspired me enough to go back to my own Lola and alter it. I loved this dress but didn't want to half-ass stitch it up the sides (in fact this dress doesn't even have side seams). Instead I pulled the ENTIRE THING apart. I think it's 16 pieces if you count the cuffs and whatnot. All serger stitching.
Once that was done I revisited my paper pieces and cut them two sizes smaller. Then I used those to cut down all the main fabric pieces. Luckily sewing it back together was a breeze.
I actually didn't cut the cuffs, collar or band smaller because I had remembered on my old dress that the cuffs and bottom band made the fabric ripple a bit, I thought that was because the rib knit was too tight.
Keeping them a little larger definitely helped except the collar is a little wavy. Not enough to make me want to go back and fix it, though. A good note for later if I ever want to make it again.
And the dress works perfectly with my Espresso Leggings!
This brings up the topic of alterations, specifically of your own makes. I hate it. I despise it. I never ever want to go back and fix something I've already done. On principle it should have been perfect when I finished sewing it, going back and re-doing it is like some sort of self-insult. I know, logically, this makes no sense however I'm sure I'm not alone in this.
I tried thinking more in depth about why I would or would not be inclined to return to an old make and alter it, especially because after changing sizes I have plenty of things that could be made smaller. This is different than just simple alterations like hemming or fitting adjustments, I'm talking changing the entire size of the garment.
Waistbands – I hate it when all I'd otherwise need to do would be stitch, say, a skirt up the sides but that pesky waistband is in the way! I'd have to tear the whole thing off then shorten it, probably needing to move buttons or belt loops making an otherwise simple alteration sit in the to-do pile indefinitely.
Darts vs. Princess Seams – the way a pattern is drafted it's often too hard to try and move bust darts on an already cut out piece of fabric. I've noticed that by losing weight my darts often end up way too low, a problem that can't be fixed with just stitching up the side of a garment. Princess seams are much easier to work with but they still usually have the problem of the seams being too wide.
Shoulders – inevitably dropping sizes means your shoulders on your garment might be too wide. Usually I don't even bother to fix this but on a fitted dress it's an issue and cutting the shoulder line back does wonky things to a shoulder cap sometimes so it's not as easy of a fix as you might think.
Linings – Oh, God, please, no! If you want to alter a dress that's fully lined, ha! Good luck with that. You're not getting away without ripping that whole thing apart.
You can see why I despise revisiting my old makes so why have I done it sometimes?
Well, this dress had raglan sleeves – no weird sleeve problems to adjust. Princess seams means no funky dart placement. And with so many pattern pieces it was the kind of design where I knew that I could easily cut down all the pieces without clipping off parts of the pattern piece here and there (you know how most pattern pieces aren't nested easily within each other?). I only had that problem with the underarm side piece.
My Beignet skirt was relatively easy to alter as it had no waistband, no lining and no darts, just skirt panels.
But, surprisingly or not, all the makes I've altered (some not blogged) I have completely ripped them apart down to the studs and re-cut every piece which seems pretty ironic considering I can't even be bothered to take a waistband off a skirt. I make no sense. But in the end I'm always happy that I took the time to do it.

How do you feel about going back and altering old handmade clothes? Do you bother to do it or do you only sew new garments?