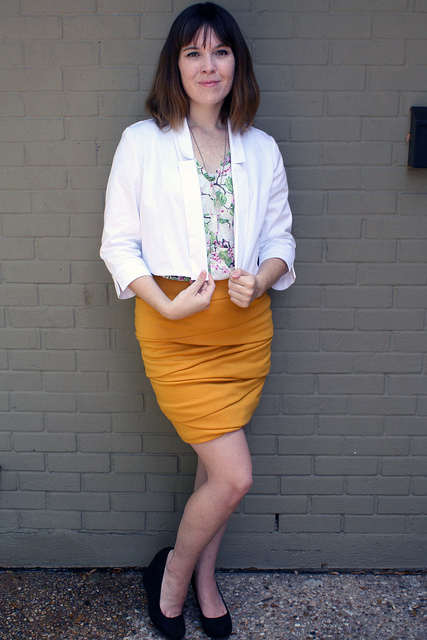 The Dixie Victoria Blazer
Two things of note before we begin today – 1) In case you didn't know, my middle name is Victoria! 😉
and 2) I'm completely convinced that "blazer" is the most awesome name of any garment. I mean just say it – "Blaaaazzzzeeerr!" It's blazin'! Blaze!!! Fire and lasers!
Ok, on to the real reason you're here. No doubt you've seen this pattern on other blogs by now (why am I always the last one to finish?), it's the Victoria Blazer from By Hand London. I love these girls. My Elisalex dress is one of my faves and most worn dresses.
The fabric is an organic cotton twill from Organic Cotton Plus.
The Goal: I really like wearing blazers but I don't often do it, because Texas, so then I thought *light bulb* white blazer! This is great because it won't be as hot as darker fabrics and I can wear a tank top outside and pop on the blazer when I go indoors to keep me from dying of air conditioning hypothermia. It's a win win!
The Pattern: This is my second By Hand London pattern I've made and I love that they've applied what they've learned from their first two patterns into making an even better pattern. I like their style – chic and with a modern twist on classic styles. This boxy blazer shape reminds me of the 80s but at the same time it looks like it fits perfect in 2013.
More things I liked – the fact that they tell you to stay stitch parts, like the center front, a place I wouldn't have thought to do but it makes sense when you're attaching the collar and lapel, you don't want that area to have stretched out.
I liked the dart that you can't really see while wearing the jacket but it makes a little bit of shaping while also serving as a collar stand in the back.
The pattern calls for French seams at the cuff which I thought was a clever option.
Oh, and one thing I appreciated was the note about sleeve ease. I liked that the ladies explained the extra ease in the sleeve cap so I was prepared when I went to sew it in and I found that there wasn't as much ease as I thought there'd be. I think this is nice because a lot of sewists have trouble with adding sleeve ease (I know I used to). Have you ever tried to insert a sleeve cap that had so much ease you gave up and just gathered the top so you didn't have to deal with it? Having this extra info made me go into that part of the assembly with confidence and better expectations. It was just a nice consideration.
And that's just an example of the fun, encouraging way the instructions are written which make sewing this blazer fun.
The Fabric: This is a 7oz twill weave from Organic Cotton Plus and I'm glad they give weights on a lot of the fabrics because I really think this is the perfect weight for this pattern. They have lots of other colors (and fabrics!) as well in case white's not your thing. Also I was really impressed with the quality of this twill. I'm used to getting plain old twill from Joann and this stuff is much nicer and feels great. They have a lot of undyed fabric, too, which makes me wonder – anyone up for a turmeric dying session??
The Changes: I cut a cropped version in a straight US 10 and didn't have to do any fitting changes. The only thing I did differently is that I didn't line it. I just didn't want an extra layer of fabric when it's so hot here. Instead I made some bias tape with the same fabric (I love making bias tape now!!) and used it as a facing to enclose the raw edges of the collar and lapels. Then I serged the bottom edge, folded it under and hand blind hemmed it. Looks pretty good! I also tacked down the top and bottom corner of both lapels but I left the collar loose.
The Results: This is a really cool little jacket and I've already gotten lots of compliments on it! Win! Also, this pattern came together surprisingly quick. I finished it in a leisurely few hours over two days. On a side note, these are the sweatiest photoshoot pictures of all time. It's soooo hot! This was a very forced smile. Love the blazer – hate the heat!