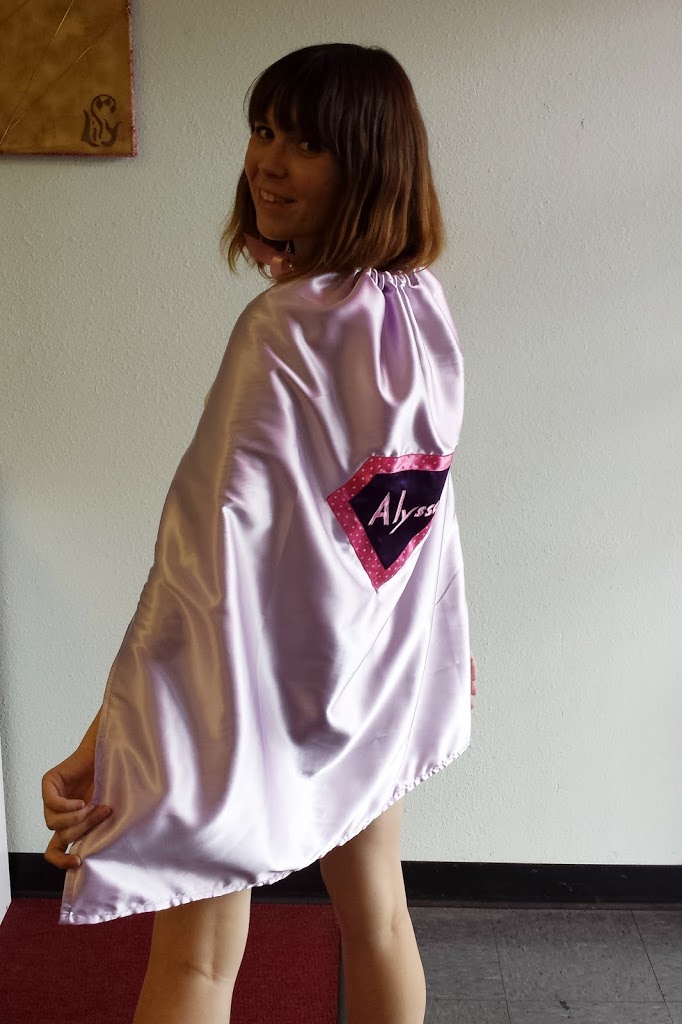 A little unselfish sewing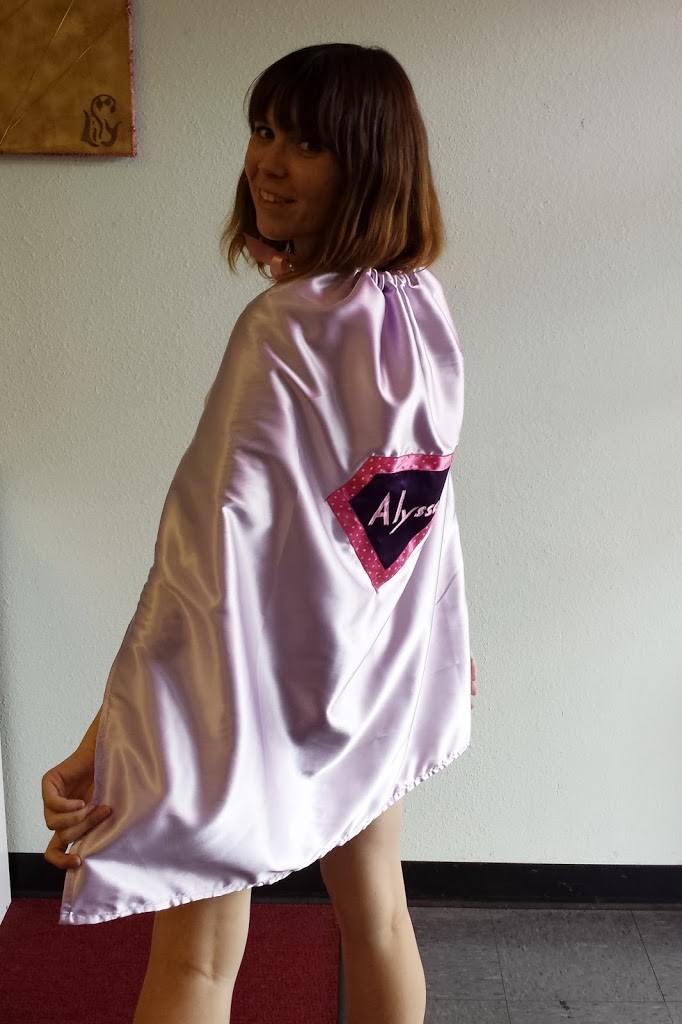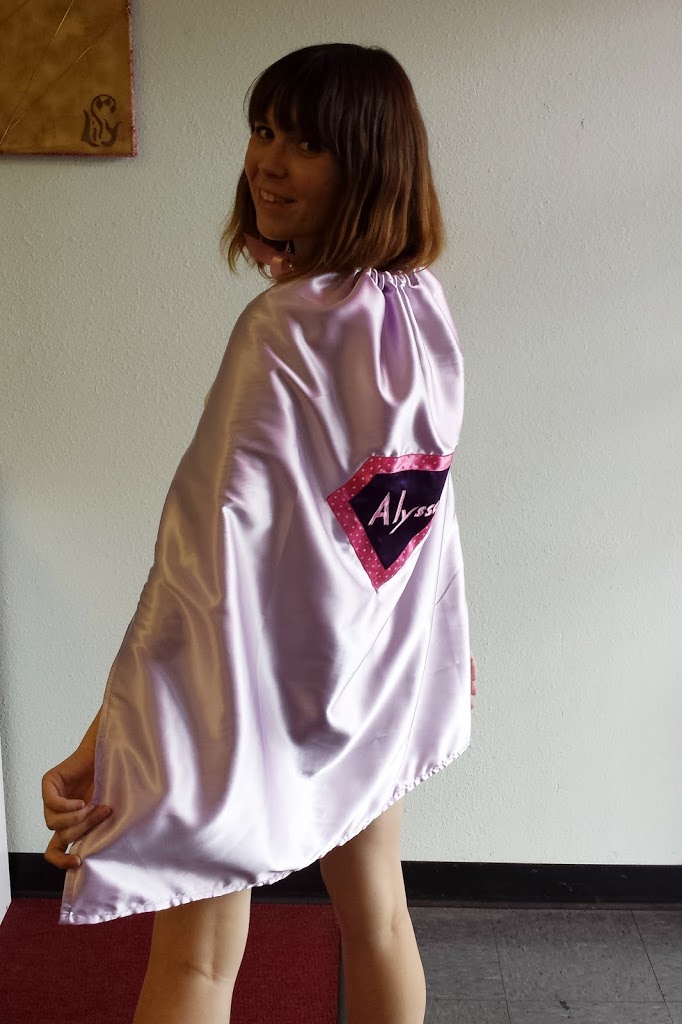 This isn't my normal sewing project – a super hero cape for a little girl, but I think it's a cool idea and a great way to talk about sewing for those in need.
First of all I have to thank Susan for connecting this great non-profit, Art2Love, and our sewing group together otherwise I never would have thought to get involved.
Art2Love is a charity that works with kids in crisis – either in the hospital with cancer, in foster care or group homes, or, in the case of my little cape recipient, with CASA (Court Appointed Special Advocates for abused and neglected children here in Austin). The kids choose between designing their own Artlings (softie dolls made too look like their own drawings) or a superhero cape with their own colors and logos.
Then organizers and volunteers use donations to buy materials or donated scraps to create these capes and Artlings. Some of the kids' work is really wild and we have to think outside the box when it comes to making them.
I chose Alyssa's design because it was pretty simple and I thought I could knock it out in a few hours, you know, test the waters of cape making with something easy.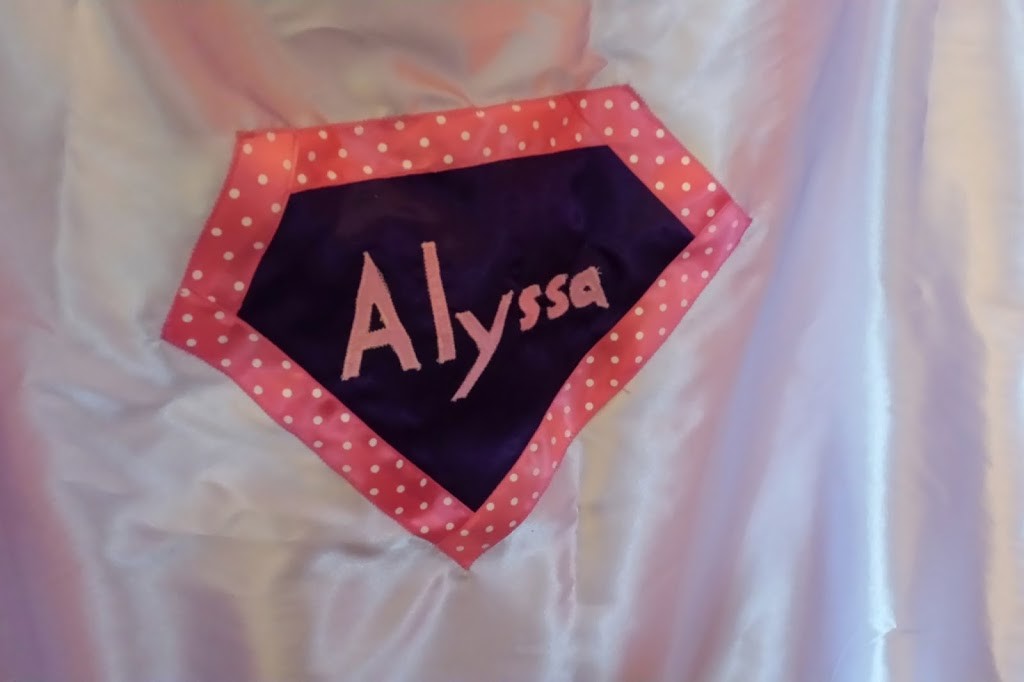 The cape is a lavender slippery poly satin with pink letters appliqued on (I tried to mimic her handwriting) with polka dot ribbon border (she specified polka dots!). I think this girl must have been really young because the older kids would make really crazy designs with fancy letters and flames and stars.
The capes themselves are pretty simple: a yard by yard square, hemmed and with a casing at the top with a ribbon through it to tie at the neck.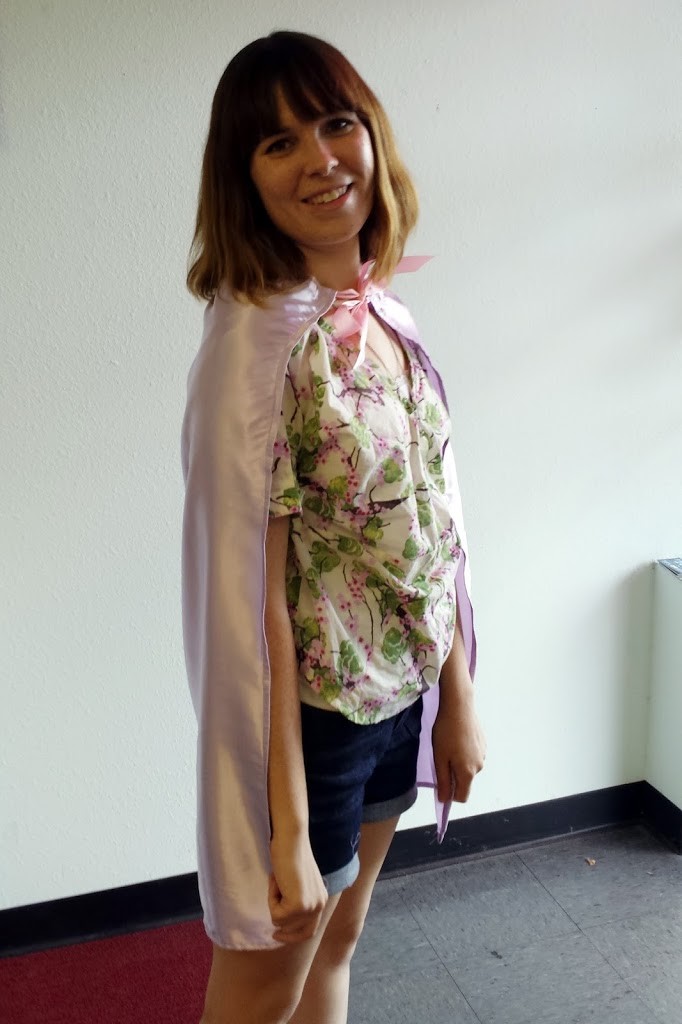 I made two similar capes in the end – one will go to Alyssa and the other is being used as a display cape in businesses to promote the charity.
The reason I loved this concept so much was that these days I don't know of many ways sewists can use their craft in a charity setting. There are plenty of groups that knit or crochet blankets for cancer kids or sew quilts for those in need but with cheap clothing so plentiful it's not like garment and craft sewists can sew clothes for the homeless or something. There's already donations for that.
But the capes are such a great idea and a perfect way for me to use my skills. The product is unique to each kid and I loved this quote on Art2Love's website, "Making choices of what to draw and how to draw it is liberating and empowering for kids who have very little voice in their current situation." That's so true. Karen, the founder, was telling me how some kids go into the process of drawing a little skeptical of what the outcome will be and once they get their Artling or cape they light up and are so excited. This cape is going to make this little girl that I'll never meet feel really special and I'm glad I could be apart of it.

Have you done any sewing or crafting for charity? And if so, what was the organization?