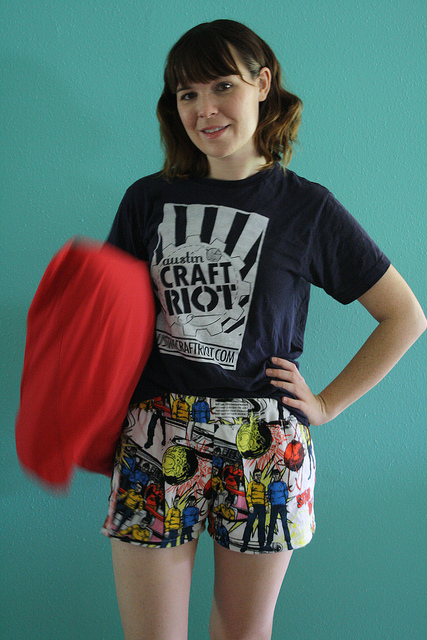 Set Phasers to Stun – it's time for Star Trek Sleep Shorts!
Are you participating in the Pajama Party? I thought I'd join in the fun this year. It's too hot for pajama pants anymore so I made shorts! Star Trek shorts to be specific.
This Star Trek flannel that I found at Joann of all places is really the inspiration for these sleep shorts and these shorts are basically an excuse to post all my favorite Star Trek memes!!
This fabric print is of the original series but I'm more of a Next Gen girl, myself. Still, it's pretty cool.
I altered my own Movies in the Park shorts pattern as a base. Here's how:
I layered the pocket piece over the front piece and traced to make a new full size piece. Rather than trimming the raw edges with bias tape I straightened the sides and sewed them together in a normal side seam, ignoring the buttons and button holes with a 5/8″ SA. By making a side seam instead of overlapping the edges it makes the shorts wide enough for me to slip them over my hips.
I added 1.25″ elastic to the waistband and hemmed the legs with a 3/4″ hem allowance. This makes the legs pretty short, much shorter than the original pattern which has you attach binding rather than hemming but they're pajama shorts, it's not like I'm gonna wear them outside in front of people. It's not like the whole internet's gonna see me or anything…
The shorts are pretty comfy and its kinda fun showing some Star Trek love even if it is just around my house. I think from now on if I ever make more casual pajama type clothes I'm just gonna geek out and wear silly prints like this.