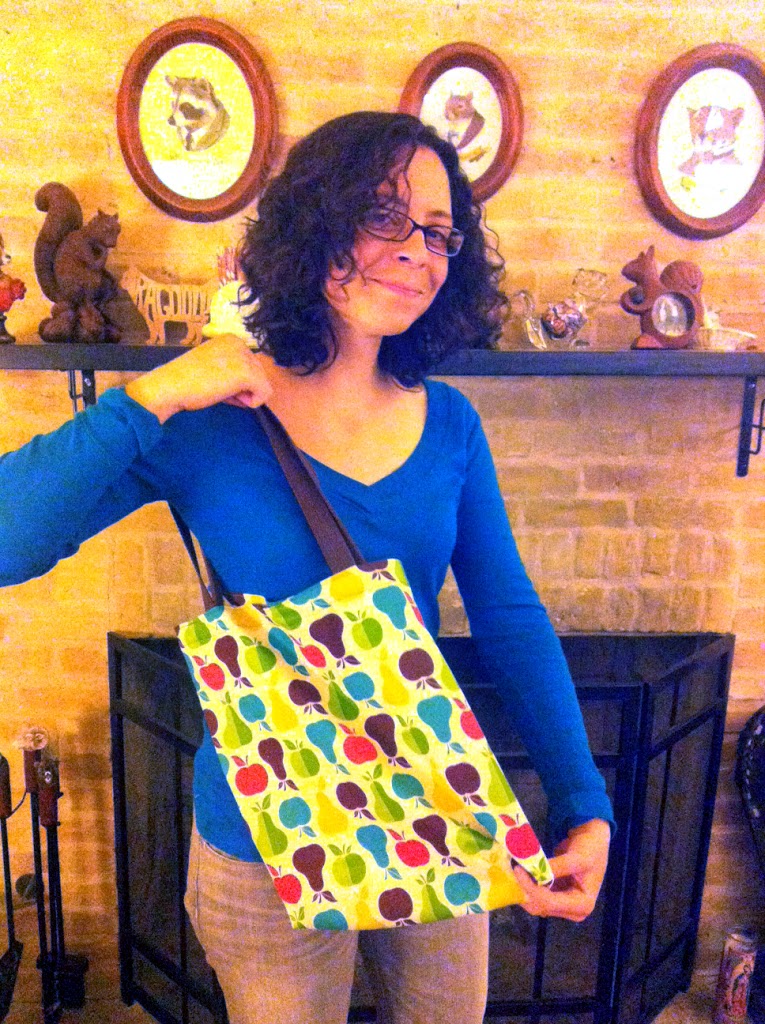 Teaching Others to Sew
This last week was a first for me – I taught a friend how to sew! I've had other friends say to me they'd love to learn or ask if I could teach them but nothing ever came of it until now.
My friend, Virginia (who's in a cool band called Pagelings, by the way…), wanted to learn to replicate a cool shopping bag that turned into a wallet, you know, since Austin recently banned plastic bags (I even made some resuables of my own!) so I went to her place to teach her the basics.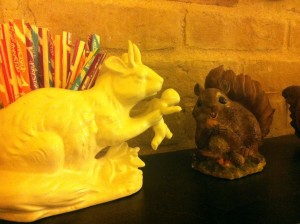 (virginia has a bunch of collections, including collections of ceramic squirrels on her mantle piece. the one on the left holds both a small child and some pixi sticks! wtf?)
She borrowed her sister's machine but turns out the tension spring was busted and the machine wasn't usable. Luckily I brought mine, too, but now she doesn't have anything to practice with until she gets it fixed. 🙁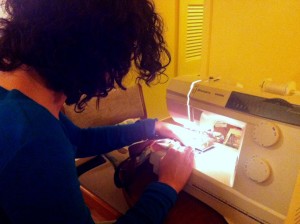 I showed her the parts of the machine, how to wind a bobin and threading. I taught her about stitch length, width, tension, needle sizes and a couple types of stitches. After stitching on a scrap she was off and I helped her make a tote bag from scratch (I had pre-cut the pieces and used woven belting instead of making our own straps, also to save time. Sometimes you need that first project to be quick, ya know, so you can feel accomplished right away and encouraged to try more).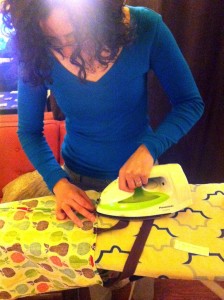 She sewed the sides and bottom, pressed open her seams, pinked her seam allowances and stitched and pinked the bottom corners. Then she attached the straps and hemmed and top stitched the top of the bag. Quick and easy and she was already sewing!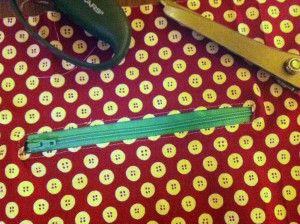 After a break she sewed a practice zipper into some fabric. (I've forgotten the name of this type of zipper pocket…) We did it this way because this was how an outer pocket on her wallet looked and I wanted to teach her something relevant.
Sometime later I'll probably go back and teach her how to make the rest of her bag/wallet but for now she's learned enough to practice with.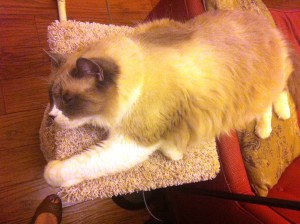 (gratuitous cat photos! this is Harvey, Virginia's cat)

All this got me thinking about what it's like to be an absolute beginner. I'm mostly self taught through trial and error so I wanted to make sure she had the best habits to start with like beginning a little away from the fabric edge and back stitching, always turning your wheel forward to avoid jams and pulling your threads to the side so they won't get tangled.
I read a couple beginner tutorials online and a sewing book trying to keep in mind all the things that I take for granted but that she wouldn't know.
I also tried to let her do everything by herself hands on, only helping with extra tricky stuff like sewing over the bulky straps. Also the magnetic seam guide really helped to keep her seams straight! It's always nice to feel successful on your first go at something new.
I had a hard time trying to not overwhelm her with different tools, techniques, supplies and fabrics. I tried to keep the lesson to specifically the things she wanted to learn. I'm proud of myself that I didn't get too impatient, either, which is one of my faults. It helped that she was a quick learner. 😉
Getting into the mindset of a beginner is something I struggle with but it's important especially when I'm designing pattern instructions so this was a good experience for me, too.

Have you ever taught anyone to sew? And if so, do you have any advice for me? Were you taught by someone else/took a sewing class and what was your experience? Is there a style of teaching you like more than others?
Oh and sorry for the bad quality pics. It was night time in doors and I only had my phone camera.