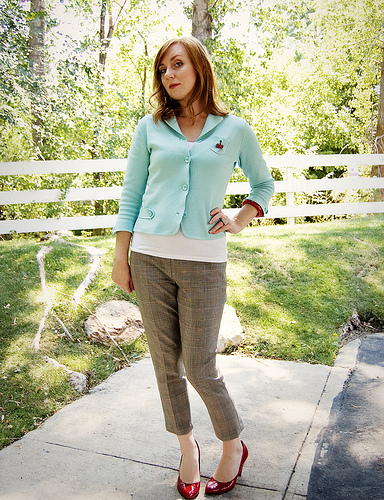 Are there *trends* in sewing?
Here's something I've been pondering lately – are there "trends" in online sewing?
Often there will be a popular pattern that pops up on a bunch of different blogs all within a couple weeks of each other but is there ever something (pattern, fabric, style, feature) on garment sewing blogs that appear so much that is seems like everyone is participating?
I'm not talking specifically about fashion trends, like, say, color blocking, peplums, lace overlays, neon, although I think those do appear on sewing blogs (I love me some peplums so maybe I notice those more often), but more like overarching themes or specific types of garments.
I guess I would compare this idea to when, about two summers ago, it seemed every food blogger was making kale chips. You'd think the Earth's entire population was munching on crispy, olive oil drizzled kale bits if you went on the internet. (Does anyone else read food blogs?)
Here are a few things I'm considering "trendy" on sewing blogs at one point or another in the last couple years:
Pants/Trousers: Around the time the Colette Clover pattern came out it seamed like everyone and their mom was sewing pants. It was like the new frontier in sewing. All these people who had sewn shirts and dresses and skirts were venturing into leg territory some with great success, others – not so much. I remember a lot of posts about figuring out crotch fitting issues (I even had one) and also sewists trying their hand at jeans (Sallieoh did a whole series on making the Clovers look more like jeans).
Bras/Lingerie (and to a lesser extend swimwear): I think this one also took off around the time Sarai posted a bra made from a Bra Maker Supply kit. I remember I had just found that supplier a day or two before I read that post so I must have found it through someone else… I saw so many bras on blogs that I went a little mad finding kits and info that I made my supplier list. There also seemed to be an influx in other lingerie patterns, the Ruby Slip, So Zo's undies pattern and Cloth Habit's Rosy Lady Shorts come to mind, among others.
Then last summer I remember seeing a number of swimwear posts (although I might be biased because I made a lot of swimsuits then) like Heather's cute emerald one-piece.
The Renfrew/Everyday sewing: This pattern was/is hugely popular and I think it started two things: more people discovered working with knits and it began a conversation on sewing basics and wearable, practical clothes (the frosting vs. cake debate). A Fashionable Stitch launched the Everyday Wardrobe challenge. There's even Cake Patterns based on this concept!
There might be some other smaller/debatable trends – sustainable sewing/restyling, outerwear, indie patterns. I think sewing vintage is so prevalent and popular that it is beyond mere trend status. I'm sure a lot is slipping my mind. I also think my view of trends might be skewed based on my own interests.
I think sewing trends are marked by a need for challenge. Many sewing bloggers are at a similar skill level so when someone breaks out of the box and tries something new others get inspired to do the same.
Sometimes the word "trendy" gets a bad rap, like it's a fad. I don't mean to say that these sewing trends are silly or trivial, rather they're more like examples the dynamism of the online sewing community and it's fun to see how sewists' preferences grow and change. I think trends encourage us sewists to learn new skills and expand our creative repertoire. (Who knew so many of us could make our own bras!?!)
So here are my questions: do you think sewing trends exist on the internet and are there any ones that you can think of? Do you agree with my assessment of trends or am I just making connections that aren't there? Are there trends in fabric or garment types or colors? Any predictions for the next big thing in sewing (I'm hoping it's leather!)?