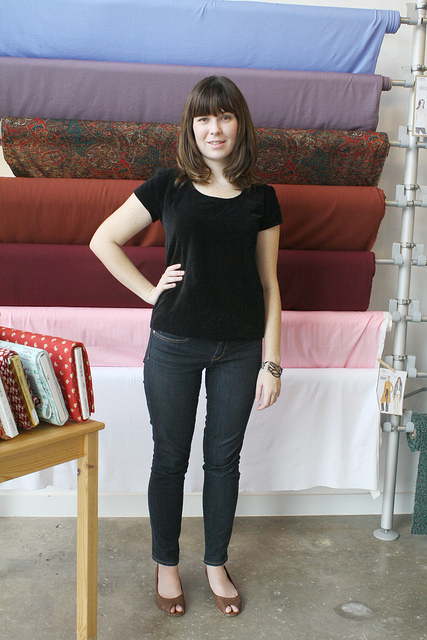 Velvet Grainline Scout Tee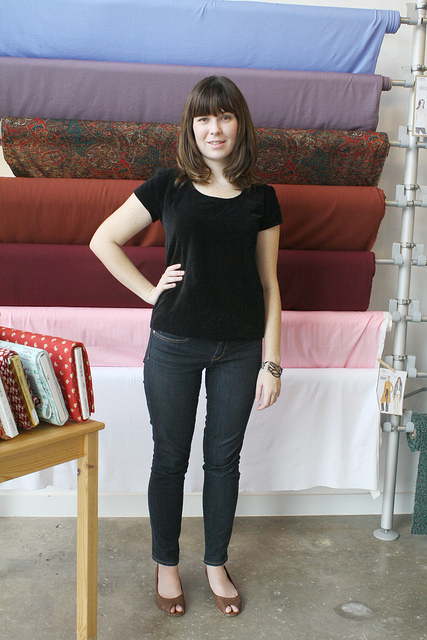 Ok, I think the technical term for velvet made from cotton is velveteen but that just doesn't seem as cool as velvet so I'm gonna go with that. Just say it – veeeeeeeelveeeeeeet. It just sounds fancy!
By the way, this since black fabric is notoriously hard to photograph I lightened these pics a bunch, so no, I am not that pale, but I am close…
The Goal: I just had this urge to make something out of velvet. Maybe because I think it's kind of festive for winter? Or maybe because in the beginning of this year I set a goal to sew more solid color tops to go with a wider variety of bottoms. But as most of us have experienced, prints are just so much fun that solids are a little boring. I think the texture and shine from the velvet pile satisfies my need for "fun."
The Pattern: The excellent Grainline Studio's Scout Tee. You can see my first version where I go into more depth about why I really like this pattern.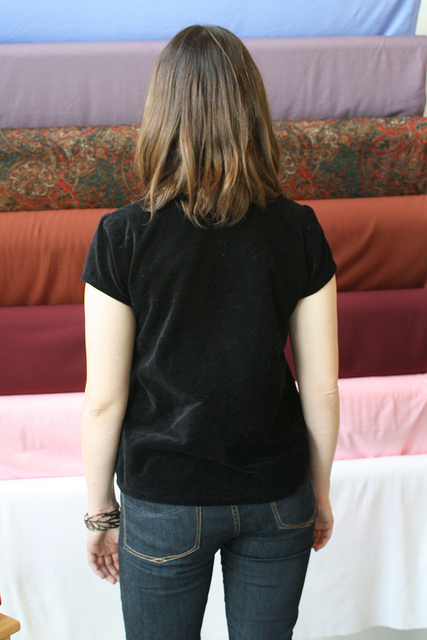 The Fabric: Cotton velvet(een) bought locally at The Common Thread (also where these pics were taken!)
So, having never worked with any kind of velvet before I was pleasently surprised with how easy it was. I read that silk and rayon velvets are much more finiky. This cotton velvet was easy to cut even with all the fuzzy bits flying everywhere. I used a walking foot to sew because I worried that the thick pile would make it difficult for the top layer of fabric to glide under a regular foot. That worked great!
I think the best part of this fabric is that it is totally machine washable. Some fancy silk velvets are dry clean only. It does get wrinkly, though. I just lightly iron it on the wrong side to smooth it out.
The Changes: None. For real. I made a straight size four.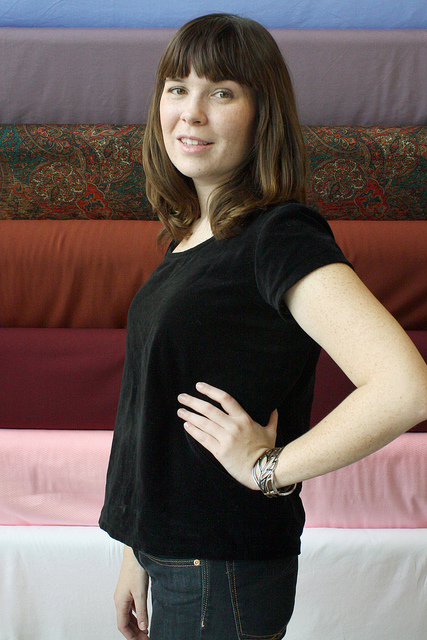 The Results: I loooove velvet! I want velvet everything now – shorts, jackets, dresses, pants, coats, non-stop velvet all the time! I think I may have found a new sewing obsession.
If you're wondering if the velvet is too stiff or heavy or hot to wear as a t-shirt, it's not. It's a very comfortable top and this pattern works well with this not-very-drapey fabric. I love that I can wear this top in the day with some jeans or dress it up at night or for a party with a cute skirt. I've already worn it multiple times this week. SO MUCH VELVET!!!!!!!!! Ok, that's enough excitement for today.
BTW, thanks for all the nice comments on my post yesterday. I think I'm gonna have fun writing up that series of posts.