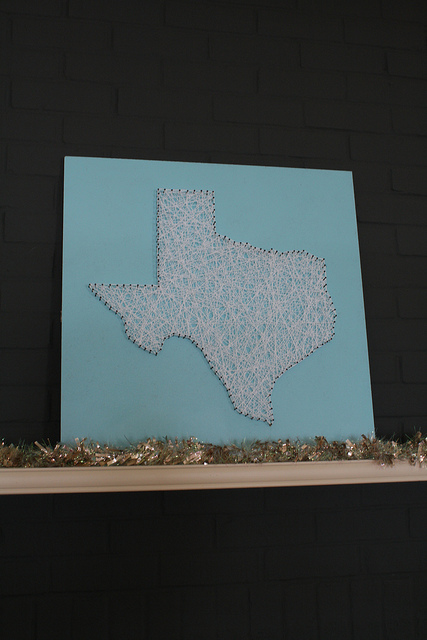 Texas State String Art
It is my experience that if ever you have a good idea, someone else has already done it. Coughsuzannecough. Ok, well, I may have had the idea but seeing hers gave me the motivation to do make it myself.
The idea is simple – take a board, I used particle board (it doesn't warp like plywood can) which they sell in pre-cut 2 ft by 2 ft squares at big box home improvement stores; spray paint it; pick a shape, I printed out the shape of Texas across 6 printer paper pages and taped them together and cut it out; tape the shape to the board and use finishing nails to create an outline of the shape; take out the paper and run string back and forth all over the shape, I used thin crochet thread.
I would have added a heart on Austin like Suzanne did on her Wisconsin but Texas is a weird shape and wouldn't work well with trying to pull string in one direction from the edges. I just make a hot mess of string instead.
It's cute! And it sits on my mantle which is nice 'cause I didn't want to have to add a wire on the back to hang it. (that's my sparkly garland leftover from Christmas)