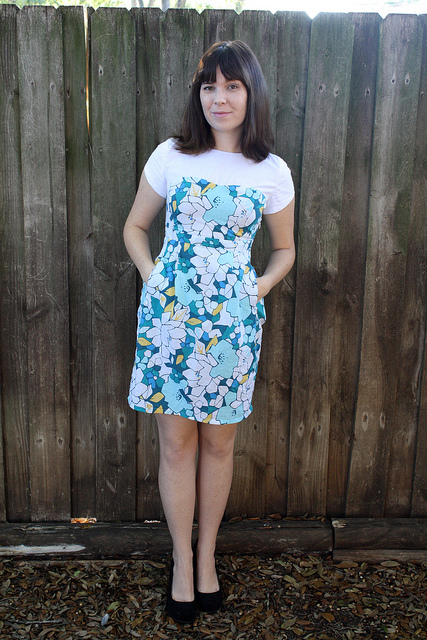 Colette Macaron 2.0
Dear Colette, you've been telling me for years to trace my patterns rather than cutting out my size, and I, as a lazy sewer, ignored you. Now I know I should have heeded your advice. I'm working on cutting several patterns right now, many that I have already used, and I realize I've changed sizes so much that I've had to re-cut or re-trace nearly all these patterns. Ooops. I've learned my lesson. From now on I'm a tracer, not a cutter.
Thanks, Dixie
The Goal: Earlier this year I analyzed my wardrobe and found that one of my "needs" was "church appropriate" dresses. Garments that I rarely wear but when an event comes up like a wedding you really need something nice.
These dresses used to be my Anouk dress and my Macaron from last October. One was summery, the other winter. Perfect! I could check that one off the "need" list.
But now both of them don't fit. They're too big. And not in a way that I could easily fix by sewing up the sides. I am so sad about this! I LOVED both of these dresses! They were my favorites and I wore them regularly even when I wasn't going to a wedding.
So two weekends ago when I had to go to a wedding I was at a loss. I didn't have enough time to make a new dress and I didn't have any other "nice" dresses that would work for a night-time, chilly, fall wedding. I gave in and bought a sweater dress at Target!! Shocking! I know, I'm so ashamed!
I figured I should stop moping about my loss of my former Macaron and make another. And here she is!
The Pattern: Colette's Macaron, and probably my fave Colette pattern of them all. I love the sweetheart neckline and the cute sleeve detail and the nifty pocket placement!
The Fabric: I made this dress on a whim so it was good that I had this stuff in my stash. The top is leftover Swiss Dot from this Burda Blouse and the floral is a pretty cotton lawn (I kind of echoed the style of my original Macaron). Both fabrics are from Fabricker in Austin but you can also buy the fabrics online!
The Changes: Not much. The pattern calls for a facing for the neckline but I lined the whole yoke instead. I used plain white batiste for the yoke and sleeve lining.
The Results: I made a size 10 the last time I made this pattern and it was a little bit too big. This time I made a 2 and it's maybe a wee bit too small. Next time I'll do a four. Hopefully that'll be the Goldilocks zone. But it's still very wearable and I think it's super cute! Success!