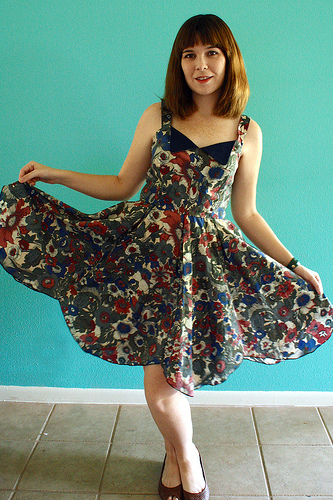 McCalls 6331
I told ya I'd be back with more! I wasn't kidding. I've been busy with sewing during my unintended internet sabbatical.
The Goal: After doing a lot of pattern drafting I was looking for some instant gratification so I went for a regular ol' pattern. And I wanted to use up some of my stash and a pattern I hadn't made before.
The Pattern: McCalls 6331 is one of those Generation Next series of patterns by hot new designers or something like that. Anyway, I liked versions B and C but was too lazy to do all the piecing involved with C so I went with B. 😉
One of the problems with losing weight is that I no longer have my go-to size. So I went with a 12 because I had success with that size before and while it fits in the waist the bust is a little too big. I might be able to get away with a 12 in a dress with a high neckline and sleeves but something this fitted I probably need to make a 10. Lesson learned!
The Fabric: Some floral cotton voile that I bought at the common thread and some dark navy blue leftover in my stash. I think it's a linen blend. The navy is used for the lining of the bodice so that the folded part shows the lining.

The Changes: I did a rolled hem on the bottom scallops with black thread. I just got the rolled hem throat plate for my serger (mine needs a different plate and my hand-me-down serger must have lost it at some point) so I was excited to try it out. I don't remember what the pattern wanted you to do for the hem… maybe use bias tape as a facing or make a hem facing…
I also added lingerie snaps on the dress straps to keep those pesky bra straps from drooping. I used tiny metal snaps stitched to a short length of serger thread chain. Best idea ever!
The Results: I'm breaking my own rules (well, they're more like guidelines, anyway) by making a sleeveless dress and while it's a cute dress I think I'm realizing why I don't like sleeveless. I hate feeling like I'm constantly worried if my bra-straps are showing and making adjustments. I do think it's really cute and I've worn it a couple times in different situations so far but we'll see how much I wear it in the future.