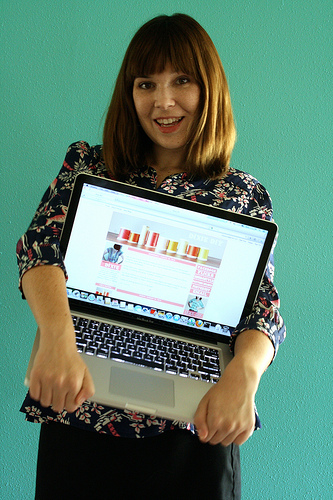 And I'm Back! With a BurdaStyle Blouse
Yes, I have returned! With a new computer! That I got, like, today.
First of all, I was thisclose to finishing my new pattern when my old laptop gave out and I have yet to install Adobe Illustrator on this computer to finish it. Luckily I saved the pattern file on an SD card so I can work on it without having to recover my old harddrive.
So that means it'll be a little while before that pattern is released but it is coming, I promise! Thanks for sticking with me!!
Until then I have lots of sewing projects to show you. I'm surprised how much I got done without being connected to the internet.
The Goal: The most recent book we picked for our Bibliostyles meeting (my sewing book club) was the BurdaStyle Handbook, and me being the procrastinator that I am, I needed to whip up something quick for the meeting.
The Pattern: After seeing awesome versions of the blouse from A Good Wardrobe I was smitten with the design. I did the original variation from the book and cut a straight size 38 that fits well.
The Fabric: Oooh, this is probably what I'm most proud of… it's silk charmeuse (charmeuse, people!!) that I starched the heck out of to stiffen it which really helped with sewing and cutting. Plus, the starch just washes out when you're done!
I found this fabric in the jobber section of a Hancock Fabrics store. Every once in awhile you find a gem. I like to call it an Asian Toile. It's got motifs of hunters, camels, deer and palm trees – kind of like a hunting scene on a traditional French toile pattern.
And I found it used in the envelope sample for this Simplicity pattern. I wish I could find more of it because it's really cool.
The Changes: I didn't change anything with the fit but I did leave out the side zipper, elastic in the waist and I made my own waist tie by making bias tape rather than using the pattern piece (yes, I made bias tape from charmeuse. I'm so proud of myself!)
The Results: I love this top! I feel like I can dress it up or down and it fits well. What more could I ask?
Oh, and I couldn't resist doing a little cataloging just for fun. This is from Vogue's new "hunching over in an office window" collection.
I'll be back soon with more!!