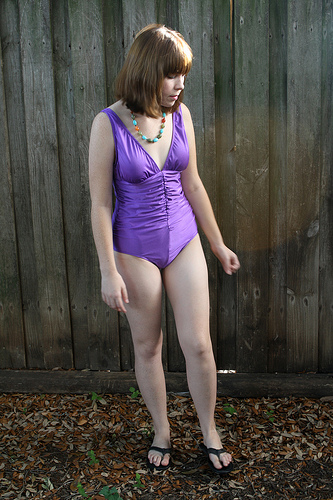 Swimming in my Swimming Suit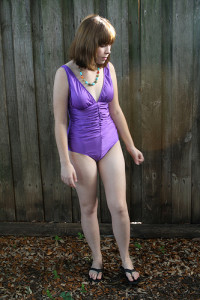 (The internet and I just got a bit more cozy.)
Sorry for not being around much the past week, but I think I have a good excuse: SWIMSUITS! Yes, I've been sewing swim suits. As of now I have 3.5 done (I'm working on some bikini bottoms). I won't show those others for awhile but this is the first of the batch that I told myself I had to finish before starting on new suits.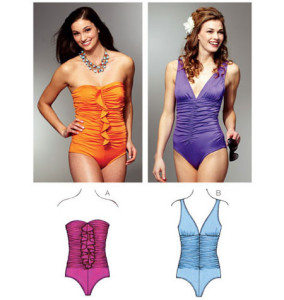 I have a couple explanations I want to get out of the way – no, I did not intend to copy the pattern's envelope photo (Kwik Sew 3779). Originally I wanted to make the strapless style in purple until I bough a swim bra made for halter tops which necessitated Version B of the pattern. I never ended up using that bra, though, so… whatever.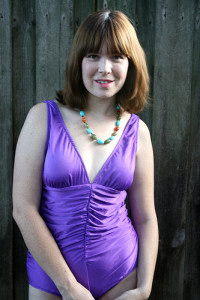 And then since I figured I already made a copy of the envelope sample I might as well go all the way and wear a statement necklace like the lady in the photo. Because when I go swimming I totally want to wear fancy jewelry (not!). Oh, well, I guess since I am no where near a body of water and instead am in my backyard getting bitten my mosquitoes I can wear a necklace if I feel like it.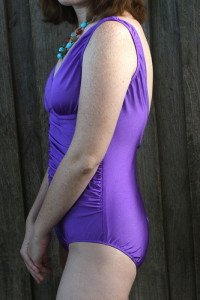 (Fun Fact: I'm proud to say that these pics were only minimally Photoshopped. Like for the birthmark on my hip… the internet and I don't need to be that close.)
Also, I cut the pattern pieces out about a year ago during my first foray into swim suit sewing. I finished one suit last year but never posted about it because the bra cups I bought were waaaaay too stiff and I never bothered to fix the suit. That being said, I've lost weight since last year and now the size M that I cut is waaaay too big and I look like I'm swimming in it (ha, I made a pun).
But I thought I'd still post this suit as a review of the pattern and supplies I used.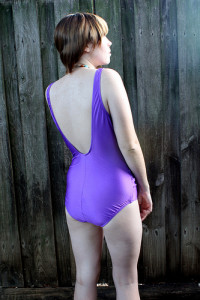 (This is the only back shot you're going to get, so be happy about it.)
If you've never sewn a swim suit before they are quite easy and quick. If you've made a bra then swim suits will be a breeze. Even if you haven't made a bra they're still a breeze.
There aren't many commercial swim suit patterns. Kwik Sew has a handful and so does Jalie. Some bra pattern makers also have swimwear patterns. The big four don't have much of a selection but I like this new one from McCall's.
As for this suit I liked the ruching and the halter top had decent sized straps. The construction was fairly easy and if you pay attention to the illustrations and instructions you shouldn't have any problems.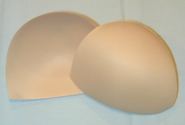 I said that I never ended up using my halter-style swim bra because I bought these cups from Sew Sassy. After looking at a RTW swim suit I already own I realized it used the same cups. I believe you can also insert them in either direction (flat edge up or down). For this suit I just stuck each one in the halter triangles and sewed everything together like normal. After observing lots of bikini tops at Target (more like fondling them, if we're going to be honest) I found that often they had the same cups stuffed between the outer and lining fabrics and I thought if it was good enough for them it was good enough for me.
If you're wondering if the cups get bunched up or wiggle around all loose inside the suit, surprisingly they don't! They just sit there being nice and not moving around. The best part is I didn't have to stitch them in place like this style.
Also, the other view of this pattern calls for elastic under the bust for support. With the strap style you don't need that extra elastic but if I made this again I'd add it for extra stability and support.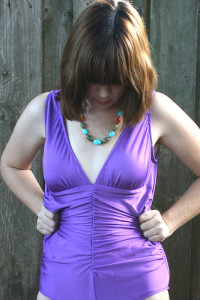 (See how much fabric I can pull away at the sides. The ruching ought to look more tight like this rather than lumpy and saggy. Ew.)
I started adding elastic to the neck and arm holes. That's when I knew the suit was going to be too big so I shortened the leg elastic by about an inch and a half. Now the leg holes fit much better than the top but even so, the torso is still too big which causes the ruching to look sloppy rather than taut. The only way I could fix that would be to take the whole thing apart again and sew up the sides and re-sew all the elastic… That prospect certainly doesn't excite me.
Oh, and when doing all the ruching make sure you are accurate. On side isn't as ruched at the bottom as the other… annoying.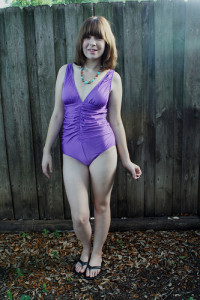 (Fun Fact: This is probably the only time you'll ever see me where flip-flops. Because I hate them. A lot.)
I doubt I'll be bringing this suit on my vacation this summer. Perhaps I'll give it away to a friend. I still like the style and might try another version sometime soon. Even if it wasn't a complete fitting success I do think it was a technical success and I'm applying what I learned in the suits I'm sewing now!
BTW, I'd love to see others' handmade swimsuits so if you've made one leave the link so I can check it out and be inspired!