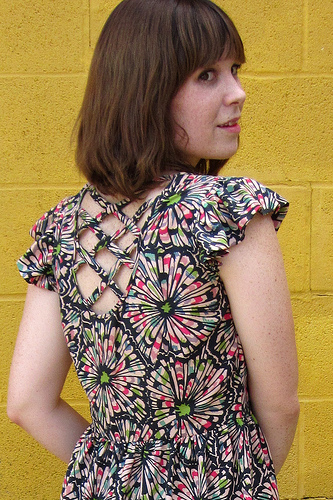 Pecan Street Art Festival Dress
I debated calling this the "F*** it, I'm Moving to Portland" dress. Justin and I went to the Old Pecan Street Art Festival here in Austin today (they block off a whole street downtown and fill it with arts and craft vendors, food stalls and local performers) and even though we were there only about an hour we were at each others' throats by the time we walked to the car because the heat turned us into angry, sweating monsters. That's right, summer is upon us and I'm feeling a lot like I ought to up and move. The heat was so fierce today that I had soaked through my dress and I felt like a big, fat, disgusting mess. Ugh.
But luckily this is a black print dress that hides sweat discoloration pretty well. On the other hand, only Photoshop can hide the super red lips I had from eating a cherry snow cone.
The Goal: I've been sketching several dress designs lately. I seem to have ideas popping into my head out of nowhere all the time. This is the first that I decided to work on because even with the fancy back and sleeves, the base of the dress is simple – fitted bodice and gathered skirt – and if I get that to work for me I can use the pattern as a jumping off point for more designs.
The Fabric: Smooth and soft rayon floral print from The Common Thread. I love this stuff so much! Too bad the store is sold out or I might have to get more. Has anyone else found this online?
The Pattern: I used a basic bodice block with side and waist darts (hard to tell in the pictures). The sleeves took some time to figure out. I ended up folding what looks like an extra long oval in half lengthwise and gathered it (easier than trying to do a baby hem). The skirt is just two big, gathered rectangles. Had I paid more attention I would have added pockets!
As for the criss-cross back I used my handy dandy new bias tape makers that I got for my birthday (thanks Polly!). I used the wider tape for the "net" and narrow tape to bind the neck hole and as a facing for the armholes.
I did an invisible zip on the side for closure (center back wouldn't have worked with the net design).
The netting took more effort than I thought. I had to stretch the bias strips more taught than I thought otherwise they hang all floppy and loose. It also took time to make sure the strips lined up correctly and intersected in the right place.
The Changes: Since this isn't a pre-made pattern I'll talk about what I'll change next time. First I'll probably use the bias tape as a facing around the neckline rather than a binding. It will probably help make the back netting smoother. In fact, I think that was my original plan but by the time I got to that point (the last step before completion) I forgot and just sewed it as binding.
It took me awhile to figure out a good placement for the ruffle sleeves since they don't reach around the entire arm hole. At first they were way too high so I lowered the ends closer to the side seams. I'll adjust the pattern for next time.
I love this rayon fabric but it has a rather loose weave and the weight of the skirt pulled the bodice down so much that I had to pull it up at the shoulder seams and re-stitch, making the bodice another 5/8″ shorter. If I used a more stable fabric I probably wouldn't have that problem.
The Results: It's super cute! These pictures make it hard to see the seams and detailing but this is a really pretty, comfortable, flow-y dress. I think it fits my sewing resolutions – a dress that I can wear everyday (but it's also dressy enough to wear to a wedding, perhaps) that's not too short, doesn't require any extra clothing  or special underwear to wear with it (like a cami underneath) and it has sleeves! Well, sort of, I think they still count.
I have a couple other designs I'm working on next. I seem to be on a fancy-back kick lately with this dress and the crochet back dress I made last week. The next dress I'm drafting has a back cut out! Fun times!
I haven't forgotten about my Shorts and Shirts Summer Wardrobe. I'm drafting a top soon and I've finished my last pair of shorts that I hope to share with you soon!