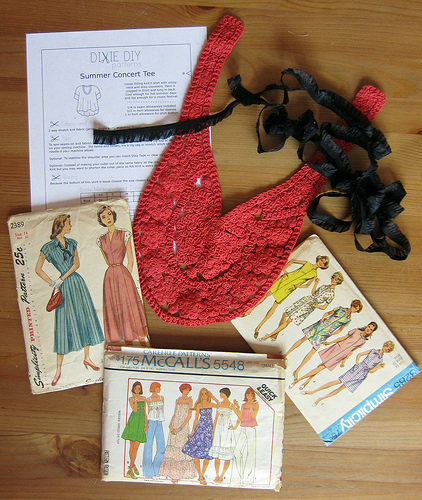 Giveaway Giveaway Giveaway!!!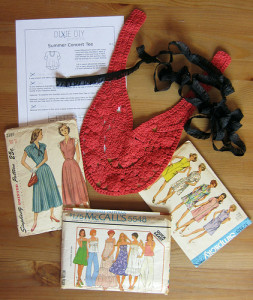 In honor of the release of my newest pattern (thanks to everyone who's bought a copy already!) I'm doing a giveaway!
That's right – one of you lucky readers can win a red crochet applique (check out my little tutorial for using them in your projects), two and a half yards of black ruffle elastic (perfect for using on undies made from scrap jersey), not one, not two, but three vintage patterns and a copy of my own Summer Concert Tee PDF pattern.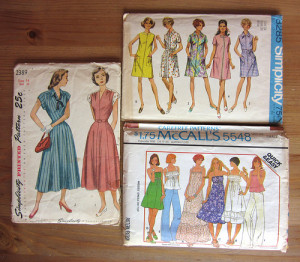 The patterns are from the 50s, 60s and 70s. The first is a delightful kimono sleeve dress in bust size 32. Wouldn't it be cute with a contrasting print on the shoulders? I really love this design but luckily I have another very similar design pattern that's a few years older so I feel ok giving this one up. I'm also giving away a cute 60s shirt dress pattern. These styles would be great for summer. This one is bust size 36. The last is a fun dress and top set. These would make for cute and comfy beach cover ups! The 70s pattern says size small which means it should fit bust size 32 1/2-34. Sorry that the sizes are rather small. I think the largest bust size in my entire collection is a 37.
I love the fluffy ruffle on this elastic and I can imagine so many tops and dresses you could add this applique to. Maybe a flutter sleeve blouse with a gathered front or a sleeveless tee?
I'll snail mail all these goodies and email the winner the Summer Concert Tee pattern PDF.
I'll announce the winner on Friday, May 11. You don't have to be a follower to enter.
Just leave a comment here on the blog answering this question: When was your first attempt at sew clothing from a pattern and was it a success? For example – my first clothing pattern project was in high school. I tried making a dress but it was an utter failure – the fabric I picked was way too thick and I didn't even bother taking measurements or reading the instructions! Yeah, it took me a couple more years before I did pattern sewing again.
Be sure to leave your email address in the comment if I can't find it in your profile.
If you want a second entry you can go to my Facebook page and answer the question there, too!