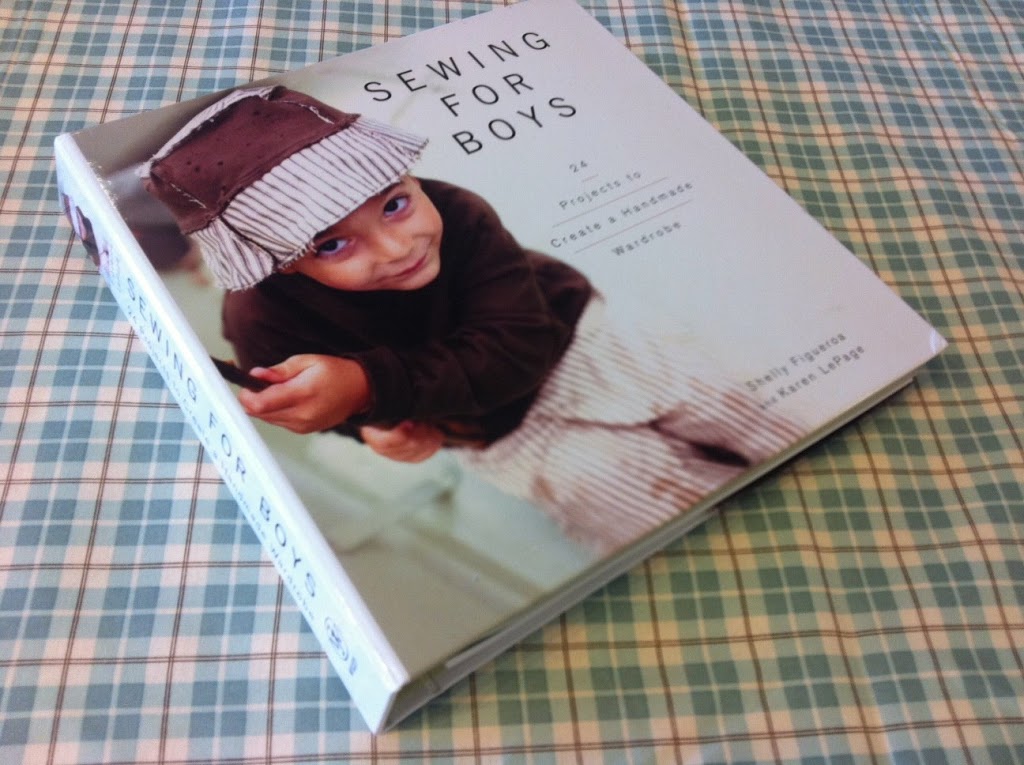 Sewing For Boys Book Review
I don't really sew for children. Ok, I've made like four things and a couple quilts. But I liked this new book so much that I thought I'd review it. I know not every reader here has kids or sews for kids but if you're interested please continue reading!
There aren't many good clothes sewing patterns out there for little one, especially boys (not counting Oliver+S, which have super cute designs). Now, I know there are plenty of patterns for little girls, many from smaller companies but most of them have a problem – they're uber-cutesy.
I'm talking patchwork pattern catastrophes like one above (Good God! Why so many ruffles?! Ruffles on the legs, why!?! Make it stop!) which is just an excuse to use as much ridiculous quilting cotton as humanly possible. And I mean, really, what 7 year old would wear that? It looks like Raggedy Ann got in a fight with a bag of jelly beans.
I feel like the guy in those Dos Equis commercials only my tagline at the end would be "I don't always sew for children, but when I do I prefer them not to look like clowns."
My sincerest apologies for your children if you like sewing designs like those. If it makes you happy, go for it!
Anyway, this is supposed to be a book review not a rant so the point to all of this is to say that what I like about boy related sewing is that it rarely turns into a candy colored mess of crazy. With boys they get to dress like miniature men only a little more stylish because you can get away with shapes and fabrics and designs that a grown man might veer away from. Boy sewing can be really modern and stylish while the only thing juvenile is the male wearing the clothes.
Which is why I like this new book, simply titled, Sewing for Boys by Shelly Figueroa and Karen LePage (who are also awesome kids pattern designers)
The book is organized with a little introduction at the beginning followed by a fashion photoshoot style layout of every project in the book over several pages. Next all those projects you just saw are organized in six sections with four projects each. The first four sections cover clothing by seasons. The final two sections are more crafty.
The sizing ranges from infant to age 7. Not every project is appropriate for a baby so if you buy this book for yourself do so when you're kid is very young to take advantage of all the projects as he grows.
"Sewing For Boys" doesn't teach you to sew and the instructions are very similar to regular clothes sewing patterns so the user needs some previous pattern experience. It does include a small glossary of necessary terms along with a helpful list of seam finishes, you know, if you forget how to do a flat fell seam for those Treasure Hunt pants.
This book would be good for both beginning and advanced sewers as the beginners can try new projects and the more advanced can whip out a boy's shirt in no time!
Most projects are labeled "beginner" or "intermediate." I only counted three "advanced."
The patterns are printed on 8 sheets of sturdy, semi-transparent white paper (much better than tissue paper!) The large number of sheets makes it easy to find your project and I especially liked that the sheets were not very big at all, making them easy to trace and fold back up in to the envelope.
Ok, enough with the technical, let's move on to the fun part – projects!
The styling of these adorable little boy models struck me as very "I'm from Austin/Portland/San Fran and I let my kid's hair grow out and send him to Montessori school and for his fifth birthday we had a 'make your own compost' party." You know what I mean. Which is totally fine because I am from Austin and if I had a kid I'd probably do all of those things (and I think the authors are from Portland). But if that's all too granola for you, you can still easily adapt any of these designs for a more suburban, public school lifestyle.
I could see myself making nearly all of the clothing designs. I especially like the coat pattern and the hoodie. I'd probably skip the suspender shorts. They're a little too Von-Trap family for me.
The clothes are pretty basic but have little twists that make them unique – a hidden pocket here, cuffs on the pants, piping, etc. Lots of possibilities for cool fabrics.
I also liked that they included many patterns for knits because kids practically live in stretchy fabrics at that age.
The crafty sections are more predictable. There's a notebook cover with crayon holders, appliques on old t-shirts (being eco-friendly), a quilt made from out grown shirts, fabric belts made with d-rings. All stuff I've seen before.
The standout project from that section is the race car mat – something a kid can enjoy for several years. There's also a hat project that's great for using scraps.
This book would be great for a parent of boys or someone who loves to sew and has nephews or little cousins. Go check it out on Amazon or on the book's website (they post a bunch of sew-alongs for projects in the book!).