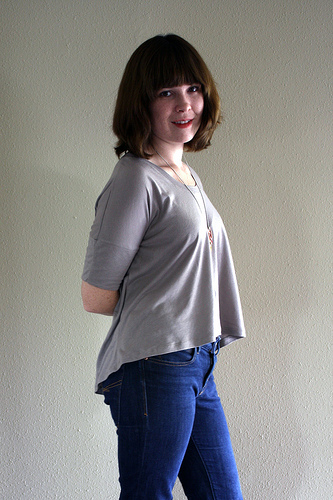 One Week, One Pattern
Ooops, I'm a little late on this one. But I think I have an excuse – I was out of town all weekend for a wedding so I wasn't able to blog (but I was able to wear my Macaron dress for the wedding. It's nice to have clothing that serves a purpose in your wardrobe).
The Goal: Anyway, even if I am a little late I have been wearing my "One Week, One Pattern" pattern. If you don't know what Tilly's One Week, One Pattern is you can check out the info on her blog or I could just tell you – you pick one sewing pattern that you love enough to create multiple looks from and wear the garments for a whole week (or most of it, anyway).
The Pattern: This is a self drafted t-shirt (because you all know I love my knits!) which is similar to this pattern in some ways. I thought it would be good for OWOP because I knew I'd need to make a few versions to get it right and I have some fabrics that I really wanted to use.
The shirt is loose fitting (which I love for hot summers) which is slightly cropped in front but longer in back. It's got a scoop neck and drop shoulder sleeves.
The Fabric: I've made two versions so far and I have one left in the mix to sew. This was my first draft that I made out of some bland taupe jersey I bought specifically for muslins but I think the end result looks good enough to wear.
The Changes: It took some trial and error to get the sleeves right but next time I'm trying a different approach. Also, some time later this week I hope to try ombre dyeing this shirt. The beige is a little dull for my taste and I want to try this technique but didn't have any projects in mind. I'm still not sure what color I want, though. I'll be overdying the existing color so the dye won't look exactly like the package. I'll need to test a scrap piece first.
The Results: This will be another great top for summer. I'm planning a version in a striped jersey which I think will look pretty cool as the stripes meet at the sleeve cuffs.
I hope to finish all three versions I want to make and then draft up a new multi-size pattern. Yay!
Thanks Tilly, for organizing this awesome challenge!