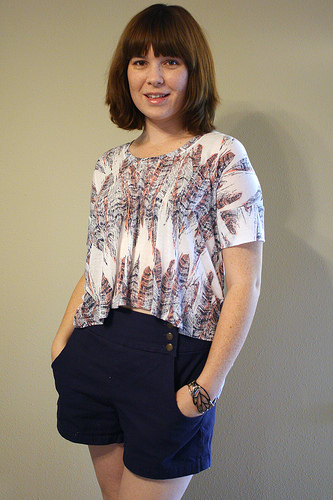 One Week One Pattern, numero dos!
Don't you love how the more times you make a pattern the faster it is to finish? That's one of the great things about this challenge and repeat pattern sewing.
I whipped this shirt up in a couple hours. You can see the first version of my self drafted top here.
It's basically the same idea as last time but I shortened the sleeve cuffs.
The fabric is a feather printed, rayon jersey from Fabric.com which is drape-y and soft and very light weight.
Suzanne made a really cool sleeveless top out of the same fabric (in a different colorway).
I've got one more top to make before the week is over!
On a side note – this is the first time I've worn these shorts since last summer (ok, more like October) and I have a problem. I've lost weight.
At the end of last summer I took the buttons off these shorts and reattached them further towards the sides. This made the waist smaller when buttoned because even back then I wanted them a little tighter.
Now I put them back on (these shorts are also part of my Shorts and Shirts Summer Wardrobe I'm making this year) and not only are they still a little loose in the waist but the legs seem huge! They were never tight shorts to begin with but now they look like I'm wearing an A-line mini skirt. I don't remember them feeling this large last year.
In most cases losing weight would be a good thing, right? Not for those who sew. Now I have to go back and alter these shorts. I'll have to take out the hem and re-finish the seams and re-hem again. Ugh. I am annoyed because I hate hate hate having to make alterations on something handmade after it's been finished.
If you loose a lot of weight you'll need to get a full new wardrobe but even losing (or gaining) a small amount of weight can be frustrating, too, when the clothes you spent so much time making don't fit any more!
I can't even imagine how I'd feel if I was one of those people who spend hundreds of dollars on a very customized dressform that matches your exact measurements and then went up or down a size! Or maybe that's a good motivator to stay a certain weight so you don't waste that investment?
Have any other sewers had this problem? Did you alter all the clothes you sewed to fit your new size or just make all new clothes?