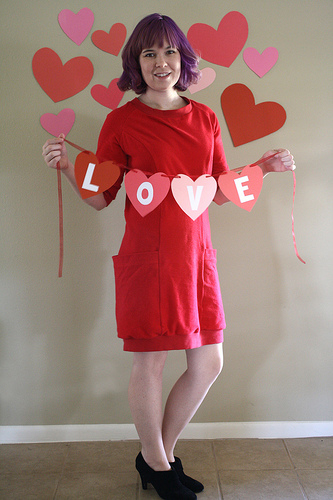 Victory Patterns' Lola Dress, or, red hot Valentine's love!
Look at me! I got all dressed up for Valentine's Day.
I love Victory Patterns' design style so much. This is the second pattern I've made from their pattern line (See my version of the Anouk dress here) – the Lola Dress – and in red! Who needs some frilly lingerie for Valentine's Day? I'd rather have a super comfy (and super cute) sweatshirt dress!
The pattern is a twist on on your good old fashioned sweatshirt only much more stylish. I liked the curve seams which make it less boxy and the big fat side pockets are fun.
The fabric is a sweatshirt fleece from Fabric.com and the ribbing is from Joann.
If you remember my New Years Sewing Resolutions (which BTW, I think I'm doing a pretty good job keeping up with) and what I learned from my Closet Catalogue  then you'll notice that this dress fits many requirements: it's a dress, it has long sleeves, it's a solid color, it's from an indie pattern company and it is a different style that I wouldn't normally sew for myself.
Let's talk body consciousness! I'm much more inclined to make dresses with cinched-in waists or at least with a belt to define a shape. I have a slight fear of looking like a balloon in designs like this. I'm also not used to wearing such a bold color but I'm so glad I stepped out of my comfort zone!
You have no idea how much I love this dress. It is so comfortable but I don't look sloppy. And, best of all, I don't look or feel like a big fat balloon! I wear this thing all the time, and I even really like the red color. I don't have any other dresses with a solid bright color all over. I love my Lola!
On a more technical note the dress was  fast and easy to sew and with the loose fit I didn't have to make any adjustments. I just cut a straight size 8. The only slight problem I noticed was the neck opening in the line drawing and sample pictures seemed slightly wider than mine and the ribbing puckered a bit, although after wearing the dress so many times I never really noticed it so I guess it's not that big of a deal. The front triangle is a nice touch. The pattern calls for serging it onto the dress but I didn't want to figure out how to remove my serger knife so I just zig zagged it on. Still looks good!
Justin and I have never been much for doing traditional activities for Valentine's Day and we never really plan anything either for the event, but we always seem to do something fun. This year we explored a car graveyard which is pretty cool if you like adventure and have a fascination for the rusted and the abandoned like I do. What did you do for Valentine's?
***In other news, I'm back to brunette. These were my last sewing related photos with purple hair. The purple lasted a good month but faded pretty badly and I was tired of not being able to wash my hair as often as I liked so today I reverted to my natural state. Goodbye purple! It was fun while it lasted!