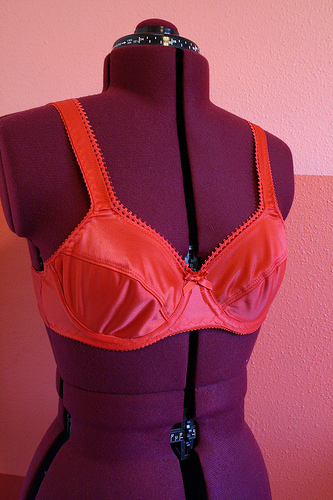 Pin-Up Girls Classic Bra Pattern, or, making things awkward for my real life friends
For some reason I keep copying Colette – first it was my black and white Jasmine top that mimicked their sample, now I'm making the same bra pattern Sarai made about a week ago. Next thing you know I'll be making light blue capri Colvers.
In my defense, none of these things were intentional. In my desire to learn more about swimwear sewing I found myself at BraMakersSupply.com looking at bra kits and patterns because swim suit sewing and lingerie sewing have much in common. The next day I bought a kit and found out Sarai (and others) had already done the same!
I bought the red kit, a set of underwires and the Pin-Up Girls Classic pattern with the full band across the front (as opposed to the partial band).
Note: If you don't live in Ontario it might save you some money to buy supplies from another site like Merckwaerdigh. They are a Dutch company but they have an easy to navigate Etsy site and a harder to navigate Ebay site (in my opinion). On their Etsy they sell notions kits for $7.43 USD with $4 for shipping vs BMS's $17.60 USD notions kit with probably $4 for shipping. And Merck's kit is for one bra and one brief while BMS is only for one bra. Merck also has more color combos for notions. BMS sells individual underwire pairs for $2.20 USD while Merck sells 6 packs of wires for $6. Merck's full kits (notions and fabric) are also cheaper.
Excuse me if this admission is TMI (or really shows my age) but I seriously have never owned a non-foam cup bra. This is my first soft, seamed bra ever so this is kind of a new wearing experience for me. Now when you think about it, I'm 24 and shaped cups became popular in about the mid 90s right? I can't be the only one who's been foam-only.
Ok – on to the nitty gritty! Sewing this bra was very rewarding. Sure, I made many mistakes but none that couldn't be corrected or done better next time. And for some reason my 3 step zig zag looks more like scallops than points. But even with mistakes and do-overs I still finished the whole thing in only a couple hours!
I didn't have any fitting issues (I'm a pretty standard size) and the directions for the pattern were pretty easy to follow. The images for stitching the elastic could have been clearer, though, but I figured it out eventually.
The only problem I have with this bra that I will fix next time is I didn't stretch the elastic enough in the under arm area so it doesn't fit as snug as I'd like. But other than that, it fits (even if the cups look a little baggy on my dressform) and looks great and was a snap to sew!
If you have any fears about jumping into bra making I say go for it! I think I'm hooked now and I'm on the hunt for new fabrics and elastics. I want to try more bra styles and add pretty lace and details. And of course I'm going to try to adapt this pattern for a supportive bikini top.
The only problem with bra sewing and blogging about it is that several of my friends and family read this so, um, yeah, next time we get together they'll probably be wondering if I'm wearing this bra at that moment. Awkward………
***Have you ever sewn your own underwear? Do you have any resources that I should know about? What about a favorite pattern?? Best place to buy fabric?