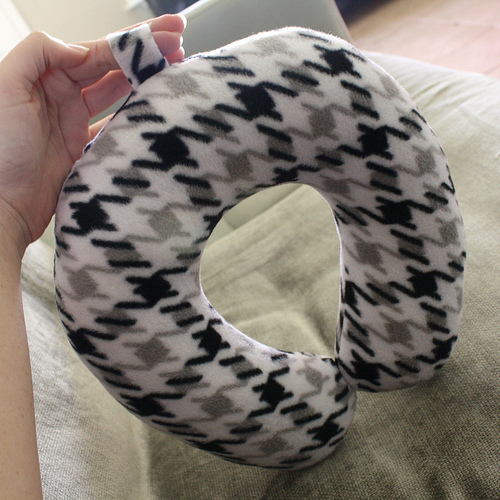 Fabric by Fabric One Yard Wonders Neck Pillow
In January I bought the new Fabric by Fabric: One Yard Wonders book and a woman in my sewing group, Susan, came up with the idea to have a sewing book club and we chose this book for our first meeting in March.
I've already made the wallet from this book and this pillow is my second project.
The "Work in Comfort" Travel Set includes a neck pillow and cushioned lap desk but I only made the neck pillow. I could have used one of these for my long car ride/plane trip last Christmas because all I want to do is sleep when I travel but can't in those darn upright seats. I'm the poster child for someone who needs one of these neck pillows!
The pillow was so easy to put together – just one pattern piece, cut two, cut the little loop, sew the pillow, trim seam allowances, stuff and then stitch up the opening. This was a less than 45 min project and Justin even wanted to help stuff the pillow with fiber fill.
I used fleece leftover from a dog coat that I made as a Christmas present last year for a friend. I realize I never posted about that, sorry! I get such a good feeling when I create something that both uses up my stash and is very practical.
And since I haven't posted any pictures yet now that I'm back to brunette, here's me testing out the pillow on the couch.
Yesterday Susan sent me an email. As it turns out the One Yard Wonders people are making a new book – this one will feature all kid related sewing projects and they're looking for contributors! So if you've got a great sewing project for toys, clothes, decor, etc for children you should submit it for the book. The deadline is April 15th. If I have time I might send in a project idea.