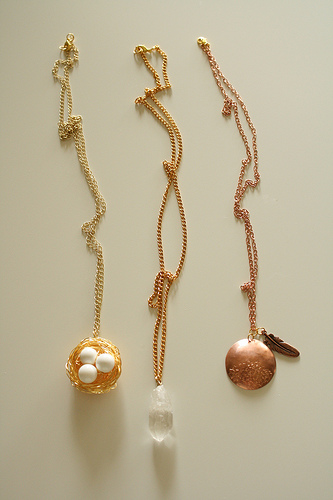 DIY Jewelry Projects, or activities for a 17 hour road trip
Last Christmas I sat in the back seat of a compact car for over 17 hours driving from Texas to Ohio. Yes, I, too, wondered "What the hell was I thinking?!?" So to pass the time I brought a little box filled with tools and supplies and an iPhone with the Pinterest app and set out for some fierce back-seat-jewelry making!
Since then I also made a couple other pieces included in this post. And luckily for you, you can make many of these yourselves! All of the supplies can be found at your local craft or bead store. I bought the rhinestones on Etsy.
The bird's nest with wire and beads diy is from Sincerely, Kinsey.
Quartz crystals like these are popular right now. I was lucky enough to find crystals with findings already inserted into the rock at a local store so I could simply slip the pendant on a chain. If you can't find crystals with findings, there is a good tutorial on making a wrapped crystal pendant at Seablanket.
I took a class recently with a friend for creating metal jewelry. The copper disk with stamped stars is my creation. I added a copper feather I had, just for kicks. There's a DIY for something similar (using the same tools and techniques) at Ornamentea.
I love the look of these rhinestone and chain bracelets. See how to make them at I Spy DIY. The only problem I faced was that the space between each rhinestone never seemed to match up with the chains. The first one I made (bottom) is slightly curved because I ended up having an extra chain link on one side.
There are a ton of tutorials about these wrapped bead bracelets. I like this video but it's pretty long. The first time you make one of these try to use round beads. My first attempt used odd shaped blue beads which were hard to work with. The beads kept tilting to the side. Once I finished the first bracelet, I knocked out the others in a few minutes. You can get pretty fast at making these!
***More sewing coming tomorrow!