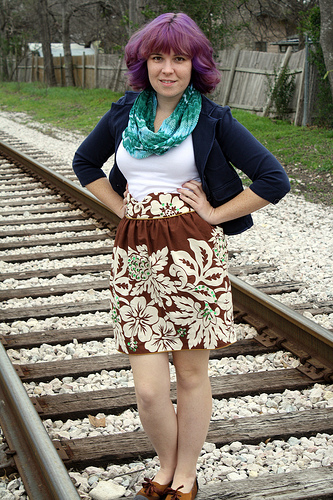 50s Skirt Restyle, or, back from the dead!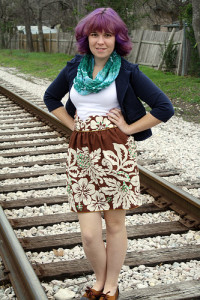 Readers – I feel like I owe you a big apology. You may or may not remember that last August (yes, nearly 6 months ago) I put up a vote on the blog to decide what to do with this too-small handmade 1950s gathered skirt.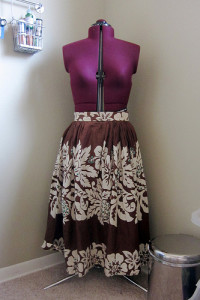 I offered four pattern options and after counting comments as well as pestering some of my friends the winner was option 4 – Simplicity 2512 (I realize I mistyped the pattern number in the previous post).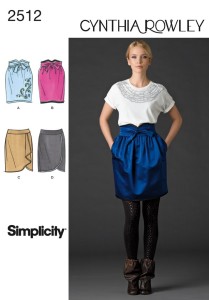 Ok, so now I had a design, which I had made before so I thought it would be pretty easy. But when I began to lay out the patten pieces I noticed problems. I had to place the paper around the existing pockets and side seams. I also noticed several large, yellow patches from age stains that needed to be avoided, too (yes, I prewashed it). And to top it off nearly all of the pretty green sequins had broken, lost their color or were completely missing. Those sequins were the whole reason I was drawn to the fabric at the start!
Disappointed, this skirt, now cut in pieces, sat around in my craft room looking sad and dejected for 6 months. I know, I know, I'm terrible!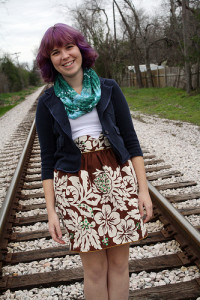 So earlier this month I got off my bum and bought a pack of sequins and tiny gold beads and replaced EVERY. SINGLE. SEQUIN. UGH!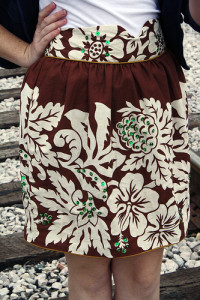 Only then did I assemble the skirt which was a breeze compared to sequin sewing.
I added some piping to the hem and the waist just for a little extra pop and I lined the whole skirt with some nude rayon bemberg because the white flowers were pretty see-through.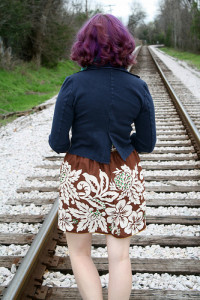 Now the skirt is much more wearable (because it fits!) and I can finally tell everyone that I finished this darn thing and why it took me so long! Talk about getting in over your head!
Thanks to everyone who voted on a pattern, I appreciate the participation. And I'm very sorry I had to make you wait for so long to see it now.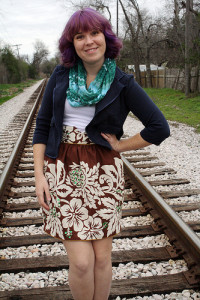 (this is my "hurry up and take the picture, boyfriend, because this is an active rail line and I'd rather not be run over by a train!" face)