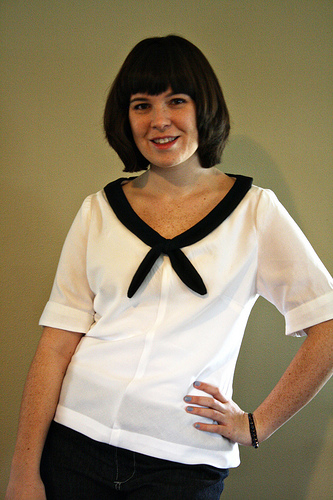 Black and White Colette Jasmine
First of all, I'd like to say that I didn't start this project with the intention of blatantly copying Colette's example of this shirt but what can I say – I wanted a classic look without a print (because I need more solid neutral tops to mix and match) and I really liked the collar and sleeves on version 2.
So I made this black and white Jasmine and I really like it! The white fabric is a smooth and silky rayon that worked well on the bias. Unfortunately it is super see-through so I have to wear a cami underneath and you can kind of see the facing as well. I'm thinking about trimming the facing down so that the collar covers up the edge.
The black collar is leftover linen from the Anouk dress I made a few days ago. Yay for stash busting!
I had never made a top on the bias before but I really like it. It skims the body and you don't need zippers or buttons or any type of clasp to put it on. Another yay! I hate unnecessary closures on tops.
Since the collar ties are really too short to tie Colette came up with a clever little loop in the center front to slip the ties through.
I also really loved the pointed cuff detail. If I have any complaint it's that I think the sleeves are a little big around for my taste. I'd have preferred a more fitted sleeve.
I don't know if I'll try the other version of this pattern but I'm not totally against giving it a go.
Justin thinks this top reminds him of a sailor shirt but I'm leaning more towards a 60s French style. What do you think?
I just realized that this is only the third Colette pattern I've made. I like several of their designs but I'm surprised I haven't sewing many of their patterns. I'm hoping to try the Clovers next. I'm crossing my fingers they they work for me!