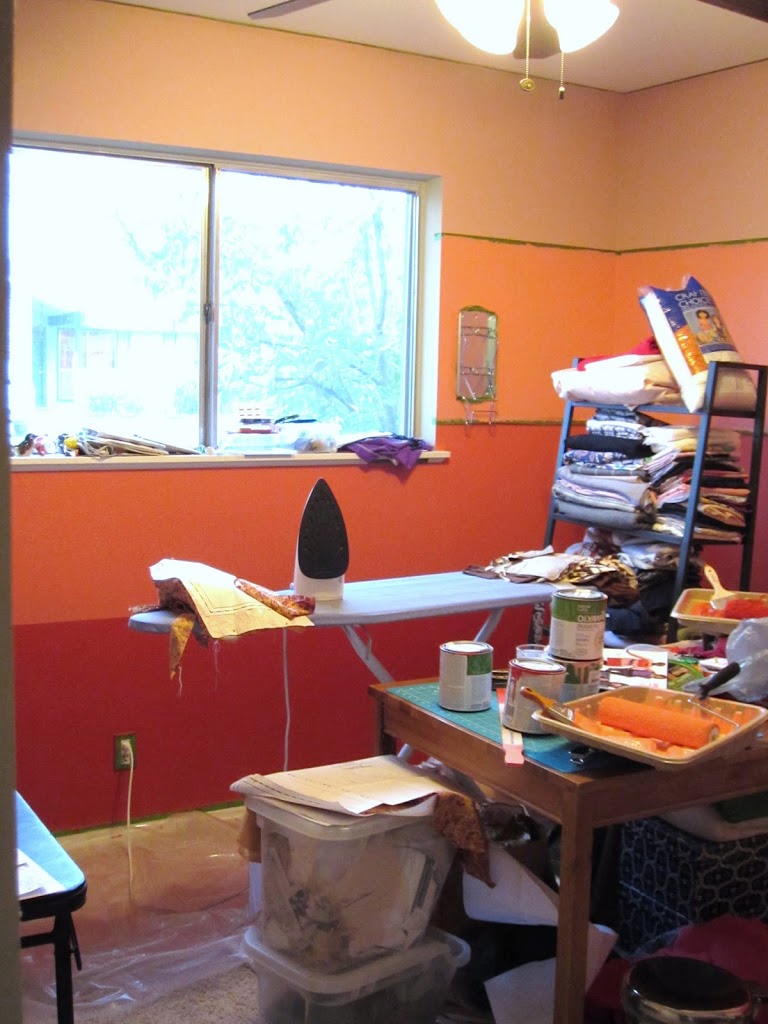 Sneak Peak, or, the longest paint job of all time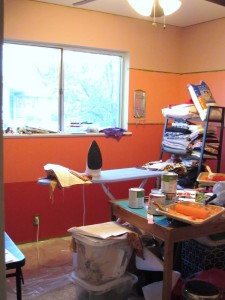 This is a photo of my sewing room partially painted. I could have just picked one color like a normal person, but no, I had to go for some crazy stripe idea with four colors with lots of measuring and taping. And it's really cutting into my sewing time.
I have two walls finished and are drying. Today I'm shoving all the stuff back on those two walls so I can move the furniture on the other two walls away. I only moved a few things out of the room completely. Luckily I haven't spilled any paint on anything so far!
I can only paint two stripes at a time because of the tape lines so it makes thing slower than normal. And I just realized I'm probably going to need more paint. Ugh.
This is why I kept putting off painting – I use that room so much that now I've migrated fabric cutting to the dining room and if I do want to sew I have to go back and forth down the hall between two rooms.
Needless to say I'm a little annoyed. Part of me wants to finish this dang dress and part of me wants to finish painting so then neither thing gets done and instead I blog.
On the other hand it does make me appreciate more that I have my own sewing room and that it is no longer the dining room. I bet most of you have had the dining room as a sewing room at one point in your lives. I think a lot of sewers must eat at the coffee table. 😉
***Do you have a sewing room/studio/cabinet/alcove/dining room? How do you make it your own? Do you think I'm crazy for trying to paint in such a tiny room without removing all the furniture? Did I just answer my own question by asking it?