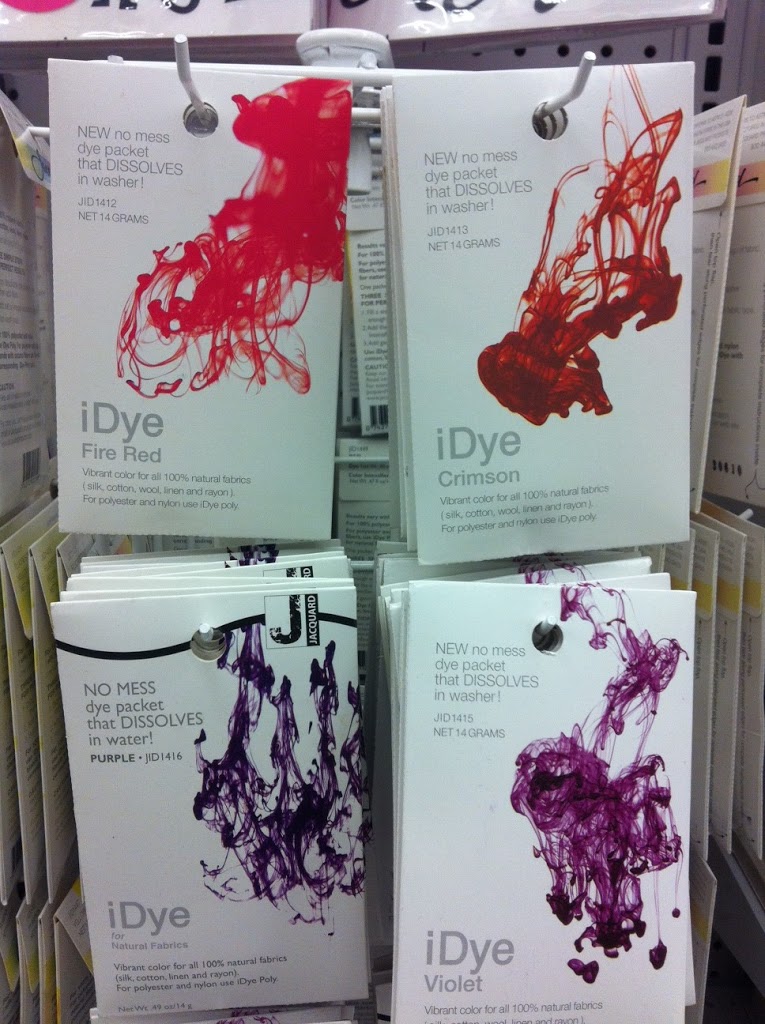 Learning a New Skill, or, an iDye Review
I've been sewing for well over 8 years now but can you believe that I've never dyed fabric before? Well, it's true. And I feel like it is something I should have done by now. How hard could it be? Plus I'm sure it's fun. AND I found this cool video on using turmeric (yes, the spice) to dye fabric! I'm not sure I'm at the point to try that but it is pretty cool and all natural.
I have some good old fashion white batiste and some crochet lace that I want to use for lining for my Darling Ranges Dress. I want the lace to just peep out from under my skirt when it's all finished but I want the lining and lace to be closer in color to my shell fabric so I decided to dye it.
Not a problem, right? Just go to the store, buy some Rit and follow the directions on the box.
When I got to the store I was a little disapointed with the Rit selection in orange and yellow (the shade range I was looking for). Only two colors. That's when I saw the iDye packets hanging on a rack.
iDye intrigued me for two reasons: it had many more color offerings and I could just pop the whole thing in the washing machine. No need for a giant pot on the stove or a bucket and a big mess. Perfect for a first time dyer!
If there was a downside to this brand it is that, although the packaging is nice and pretty, the photo of liquid dye is a little confusing. Some colors feature pictures with a large gradient of light and dark shades in the color. Well, which is it? When I buy "Crimson" am I getting a bright red or a deep burgundy? With "Golden Yellow" am I getting mustard or orange?
I bought Deep Orange and thought "We'll just see how this goes."
So lets get started. I popped open the packet to find a little plastic pouch with deep colored dye in it. So far so good.
The directions for a front load washer say to pop in everything all at once – fabric, dye packet and 1 cup of salt (for cotton). Set the water on hot and high agitation.
Immediately you can see the water turn orange.
I did an extra rinse cycle just to be safe and dried the lace and fabric in the dryer.
Here's the final result after ironing. Not too shabby. The batiste resembles an orange sorbet color. The lace is much bolder than the fabric but it is also thicker and wasn't as white as the batiste to begin with. The orange picks up on the deeper shades in my printed fabric for my dress (which you will get to see later).
Yay! What an easy introduction to dying. So if you are a dye newbie give iDye a try. You can also use it on the stove top if you don't have a washer at home but the washing machine method is pretty simple and I liked the finished color. I bought mine at Joann and the cost wasn't that much more than Rit. They even have a line of colors specifically for polyester fabrics.
***Have you dyed fabric before? Have you ever tried using natural dyes (spices, wine?) Any tips for my future dye endeavors?