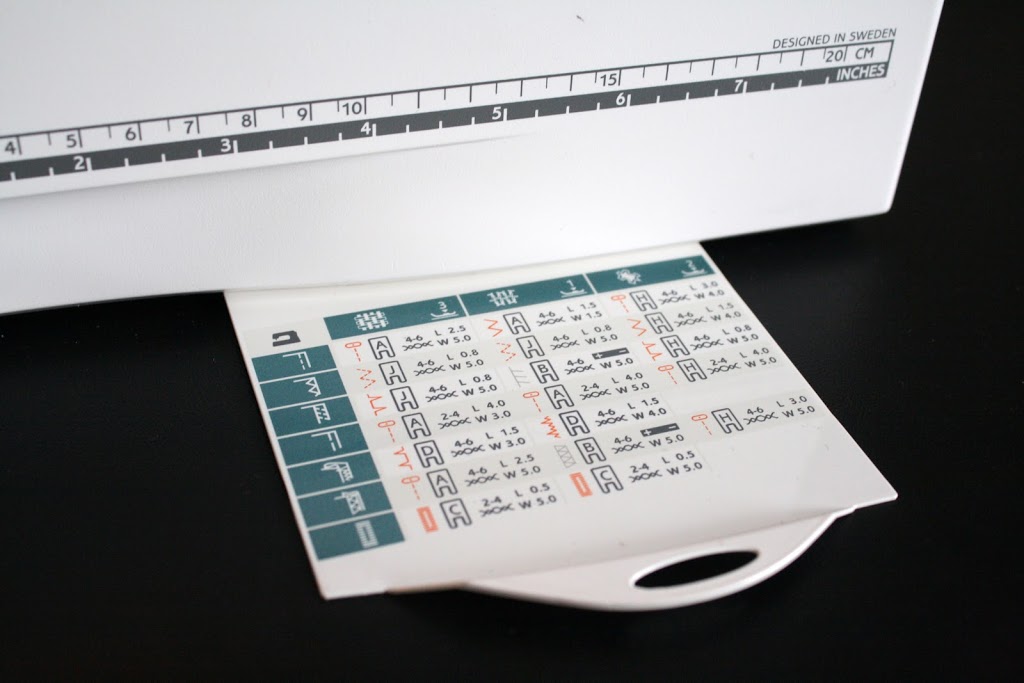 Never Fear Knits Pt 5
Woohoo! Now we get down to the nitty gritty – actually sewing those knit fabrics! Warning! This is a really long post.
Fabric Preparation
Just like with wovens it is a good idea to pre-wash your fabric. Knits are especially known to shrink in the wash. After you've washed and dried the fabric according to it's fiber requirements you should lay the fabric out flat before sewing. It needs to "rest" for awhile. If your fabric is hanging off the edge of a table for an hour or two, for example, it will stretch out too much! All this extra work might sound excessive if you're impatient like me but you really don't want your fabric to be all warped, do you?

Sewing Knits on a Sewing Machine
For sewers with a regular machine, don't fret! You don't need a serger to sew knits. You have options. First – the narrow stitch length zig zag stitch was made for knits. It is perfect for stretchy seams and since knits don't fray very much you won't need much else to finish your seam. If you do want to finish them you can do another zig zag stitch that wraps around the raw edge or, if your machine has one, a faux overlock stitch.
Some machines have a stretch stitch setting. On my machine it is a straight stitch that moves forward, then halfway back, then forward again, and so on. I don't like this one, though, because I think it takes a much longer time to sew and I think it looks sloppier than a zig zag.
I don't advocate using a straight stitch because the thread can easily break if the fabric is pulled too hard but some people will sew knits with a straight stitch will pulling the fabric as it goes through the machine.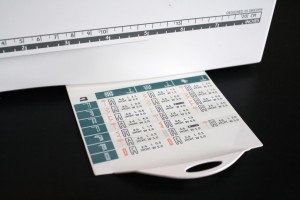 (my machine has a handy chart with recommendations on sewing different types of fabrics)
Ok, let's assume you're using a good old zig zag. There are a few settings on your machine that will need adjusting. These are what I used on my machine, based on personal experience and what my manual recommends.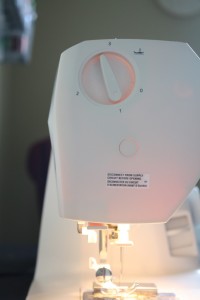 Set your presser foot presser to 1 or low. For regular woven cottons it is probably set much higher. A high presser setting may stretch your knit fabric out when running under the foot. We want it to glide through smoothly!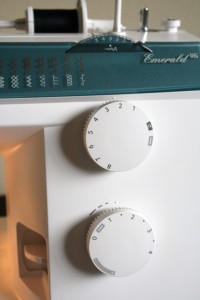 (top=stitch width, middle=zig zag setting(#2), bottom=stitch length)
Set your stitch width to around 3 and your length to about 1.5.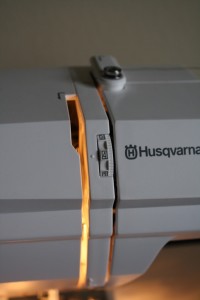 Set your tension to somewhere nice in the middle. I like 4.
Don't stretch your fabric as you feed it through the machine. This will result in stretched out and rippled seams, skipped stitches or loose thread tension. Just let it run under the foot and nudge it along gently in the right direction to keep it straight.
You can watch this short video and see how easy I guide the fabric and what the end result looks like. (Thanks for ignoring the TV in the background, ha!)
Do test runs on a few scraps to see if you need to change any thing. I'm using a medium to lightweight cotton jersey in these examples. If you use a very light weight or a heavier weight fabric you'll need to adjust these settings.
With knits you don't need to finish your seams because they won't fray. However if you want you can sew a zig zag stitch close to the edge of the fabric or even slightly over the edge (which will wrap around the fabric making a sort of mock-overlock stitch).
Sewing Knits with a Serger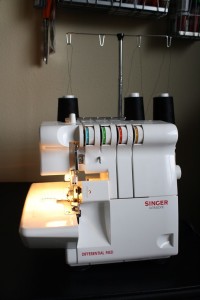 (everyone's serger is different so read your manual!)
For those with a serger, well, you're life is a little easier.
Serged seams are quick and easy to make. They sew a seam and finish the edge all at the same time.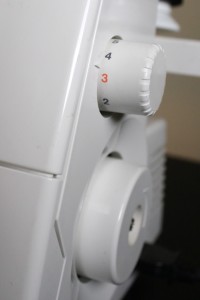 (I set my stitch length to 3 and a half)
Like on a regular machine, test your settings on some scraps before you dive in. I like a good middle of the road stitch length and I always adjust my thread tensions for every different fabric.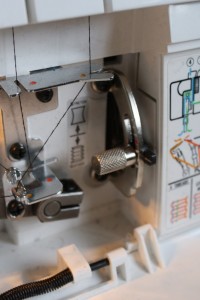 Sometimes I even make slight adjustments to my differential feed if my seams looks warped.
Sewing Seams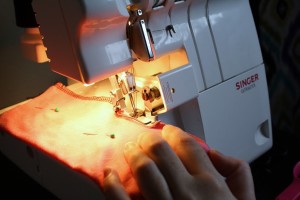 Again, don't stretch your fabric as you sew – gently guide it under the presser foot.
Some patterns made especially for knits have a 1/4in seam allowance – the standard a serger makes. You can still use a zig zag stitch on a narrow seam.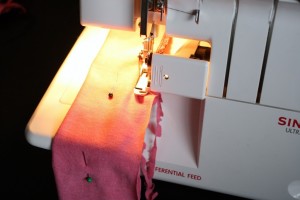 (my serger knives desperately need to be sharpened – hence my jagged trimming)
If using a serger for standard 5/8″ seams your throat plate has measurements on it. Line the edge of the fabric up with the 5/8″ line and let your serger knife slice through the excess fabric.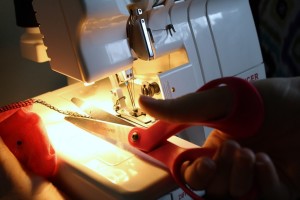 Leave a "tail" of threads before and after you serge.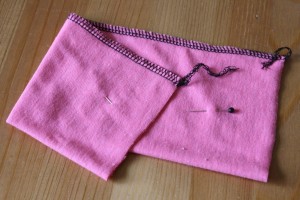 Sewing Hems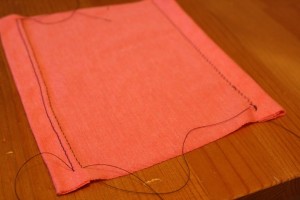 (left: twin needle hem, right: regular zig zag stitch hem)
For hems you can make a standard hem by folding under the fabric and top stitching with a zig zag or stretch stitch.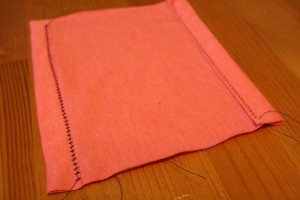 (the back side – left: twin needle, right: zig zag)
I like serging the raw edge, folding the edge under and top stitching with a twin needle. The twin makes two parallel lines of stitches on the right side, mimicking the look of a coverstitched hem.
With a twin needle, you'll have to sew your hem from the right side, not the wrong side. This means you'll need to pin the fabric from the right side. When you run the fabric under the presser foot you can feel the folded under edge below. I line that edge up under the left needle. The bottom thread will wrap that underneath edge and prevent it from flopping around.
If may get a "ridge" in between the two lines of stitching, that's pretty common. Try lengthening your stitches, lowering your thread tension slightly or buy a needle with a wider distance between the needles. Ironing the seam might also help.
If you have a serger you could also sew a rolled hem. Read your manual to see how to make it. You'll need to make several special adjustments to the machine.
***If you're having problems with any of these tips, no worries, I'm making a troubleshooting post later. In the mean time, practice practice practice!
Tomorrow we'll talk stabilizers, interfacings, elastic and more!