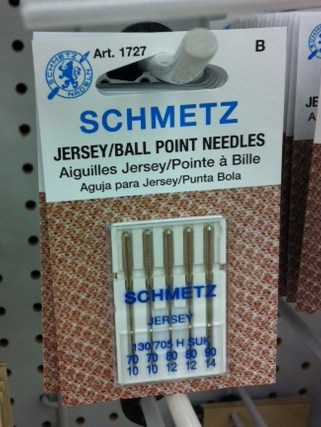 Never Fear Knits Pt 4
This is part 4 of the on going series on how to sew knits fabrics. If you want to catch up you can start at the beginning here: Never Fear Knits Pt 1


Tools of the Trade
Just like with wovens it is good practice to use appropriate needles. That means the right size for the weight and type of fabric.
Going a step further, you'll need ball point needles for knits. They may also be called "stretch" needles. I've even seen some labeled "Jersey." A ball point needle has a more rounded point than a universal sharp needle. Ball points will help prevent snags and holes in the fabric because they glide around the individual yarns rather than stabbing through them.
While they're not necessary, you could pick up some ball point pins, too.
Another fun needle you might want to use is a Twin Needle. It mimics the look of a coverstitch machine on hems. Coverstitch machines are similar to sergers and make a top stitch on one side and an overlock stitch on the other side of the fabric. Take a look at the hem of your t-shirt to see an example.

If your machine has a zig zag stitch and you have two thread guides above your needle (like the pic above) you can probably use this needle.
All-Purpose polyester thread will do the trick for sewing knits. Stretchy thread, called wooly nylon, is also available. You'll want to wind bobbins by hand with this. I don't use it, though, as normal poly thread works fine.
I've even found stretch bias tape in stores should you ever need it.
Using pattern weights and a rotary cutter is the easiest way to cut pattern pieces from knit fabric as it helps to prevent unwanted stretching while cutting.
I've never had to use it but a walking foot could come in handy when you are first learning because it makes both top and bottom layers of fabric feed through the machine evenly. If you have a serger you won't need a special presser foot.
I'm saving stabilizers for later as they are a little bit more advanced and I want to cover the basics of sewing knits first before we talk about interfacings and such.
***Ok, we're going to take a break for a day and come back on Wednesday with the real important bits – how to sew those knits!! So go stock up on some ball point needles. 😉