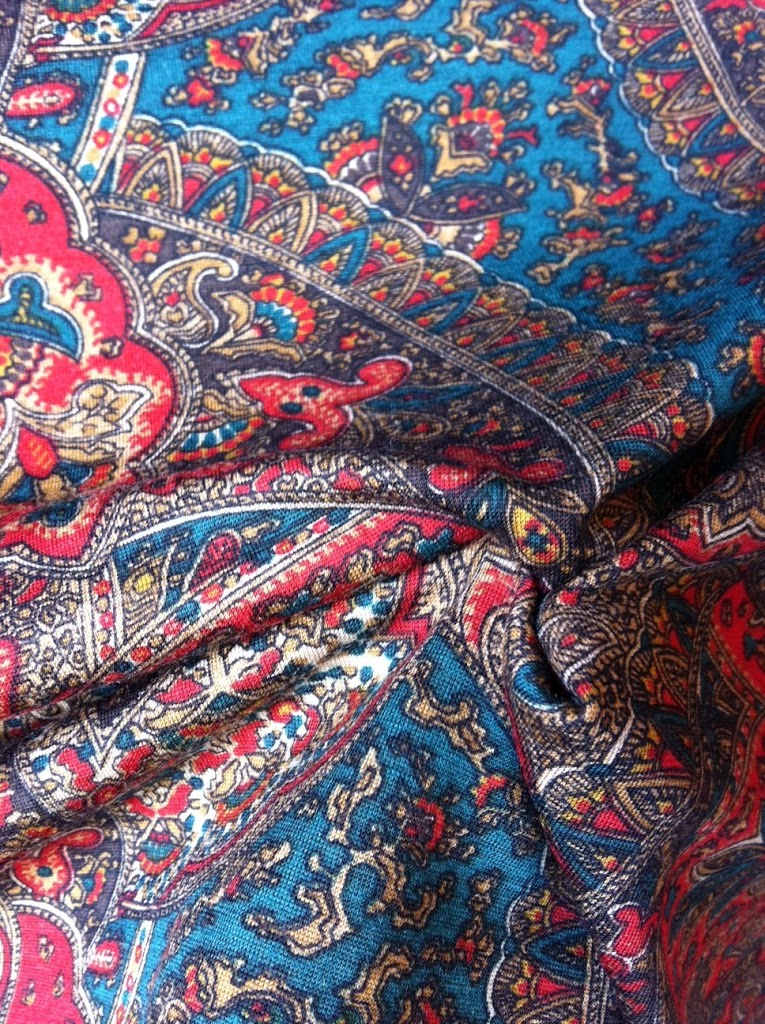 Never Fear Knits Pt 3
Today we're talking fiber and fabric types as well as how to find the right knit for your pattern.
Fiber Types
Just like wovens, knits are made with a variety of fibers – cotton, wool, silk, rayon, bamboo, spandex, polyester, lycra, nylon, etc. Most RTW t-shirts are made of cotton or a poly/cotton blend. Athletic wear and swimwear probably have some extra stretchy fibers like spandex and nylon.
(Right: wool single knit, Left: bamboo jersey. Bamboo fibers are made similar to rayon. This fabric is super smooth, soft and drapey)
Fabric Types
Jersey – The type you are probably most familiar with is jersey. You're comfy t-shirts are made from this stuff. Fairly light weight and drapey, jersey is a single knit with a moderate amount of stretch.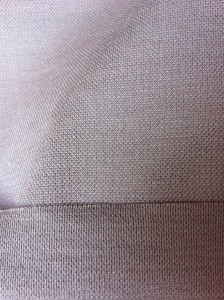 (Close up double knit. Right side is top, wrong side on bottom.)
Double knit/Interlock – Double knits are what they sound like, two yarns knitted together. They make for a thicker, more substantial and less clingy fabric. An interlock is also technically a double knit but has more stretch and can be less thick than regular double knit.
Rib knit – mainly used for collars on t-shirts or tank tops this fabric is extra stretchy and likes to conform to every curve on your body. It has long, vertical, textured lines running along the fabric.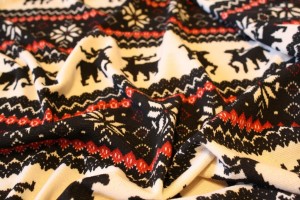 (sweater knit)
Sweater Knits – you'll find these stocking the shelves of the fabric store come fall. They are novelty knits that resemble a nice cardigan fabric. They come in all different prints and thicknesses and often made with wool or made to look like wool. They also can be knitted with lots of space between the fibers which can make them even more stretchy than say, a regular old jersey.
Fleece – this is another fabric that gets special attention in the fall and winter. Think sweatshirt fleece hoodies or blankets made from football team logo prints. Some have a soft fuzzy nap on one or both sides. I generally like to reserve fleece for crafts as it often seems either jouvenile or like 80s work out gear when used for clothes.
Swimsuit fabric often has nylon or spandex (or both) in it to make it extra stretchy. Nylon also recovers better than, say, cotton, when repeatedly wet. You'll also find flesh colored or black swimsuit lining fabric in the same section of the store. It's thinnner than swimwear fabric but still as stretchy.
Some other fabrics you might come across: terry – think towels with the little thread loops, and pique – polo shirt fabric.
2 way stretch vs. 4 way stretch
Most knits are have two way stretch meaning the fabric is most stretchy on the cross grain or widthwise, which is good because you want the fabric to stretch around your body.
(swimwear knit has four way stretch – up and down, plus size to side)
You want 4 way stretch for swimwear, dancewear and some exercise wear since it has to stretch all around your body.
Picking Patterns for knits
You can easily find knit patterns in the store because they'll be labeled for knit fabrics or list knits in the recommended fabrics.
Fit Tip: Because knits are stretchy most knit patterns include less ease than woven patterns because the fabric will form to your body.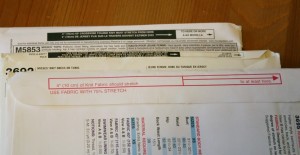 The back of knit patterns will include a stretch guide, usually on the side.

(lay the fabric flat next to the stretch guide. Pinch and stretch the fabric to the end of the guide)
Test you fabric by stretching the along the guide. Knits usually have the most stretch in the width rather than the length. Swimwear knits tend to be equally stretchy in both directions. Often patterns will talk about a percentage of stretch. So if a pattern says you need a knit with 50% stretch, when you pull on the fabric it should be able to stretch to to one and a half times the original length. Or 4in of flat fabric should stretch to 6in.
If your material stretches past the end of the guide or doesn't stretch enough you might want to consider a different fabric.
Read the back of the pattern for recommended types of fabric:

Jersey is great for t-shirts, leggings and even sweaters.

Double knits and interlocks work well for skirts or dresses. Jersey will show every unwanted curve and panty line so be warned, same goes for rib knits!
Ponte knits work well for shirts and dresses (think preppy polo dresses).
When making swimwear or dancewear be sure to use fabric specifically for those tasks. Plain old poly/cotton knit won't retain it's shape after repeated trips in salt water or clorine pools.

Some patterns like the shirt pattern above can be used with wovens or knits without needing any pattern changes.
You can adjust some woven patterns to use with knits. Consider, though, that you may want to make a size smaller because with that stretchy knit fabric you might wind up with an extra baggy garment. Sometimes you can incorporate a knit into part of a pattern. I've seen plenty of people make the Colette Macaron pattern with a knit upper part with no sizing problems.
Or, because double knit is fairly thick and only has a slight stretch it can often be used in woven patterns with no problems. I've seen plenty of people sew blazer and skirt patterns with double knits without major pattern adjustments.
***Tomorrow we'll talk tools you need for sewing with knits then we'll take a day off so you can go get any extra tools you need. Then we'll pick back up on Wednesday with how to sew knits and you can use all those fun new tools to practice.