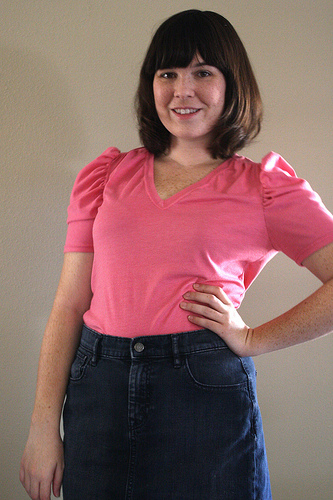 Sleeve Experiments – Simplicity 2956
A few weeks ago, the lovely Rachel from Always a Project sent me a few patterns in the mail. Thanks Rachel!!
So of course I had to try them out starting with Simplicity 2956.
I wanted to try this sleeve design which I had seen on some RTW shirts but that I had never worn or made.
I changed a couple parts of the pattern, though. I made the basic v-neck t-shirt design but I nixed the empire waist (because I usually end up looking preggers) and the bubble hem because it was just easier not to.
This is the third garment I've made from this pink jersey. The first was a failed skirt and the second was a failed top with fancy flounces. I didn't have much luck with either which left me with not much leftover fabric so the sleeves are about 2 inches shorter than they are in the pattern. I had to make due with what I had left.
What I like about the shirt – the v-neck and the little shoulder gathers are a fun touch. Unfortunately I can't say that I like the sleeves.
Just like with the last top I made I feel like I'm constantly messing with the shirt to get it to lay right. The sleeves don't look as drapey as in the pattern photo and they seem too poofy at the top. Maybe I don't like ruffles and flounces and gathers as much as I thought. Maybe I should have worn a shirt in a store with sleeves like this? Maybe I should have made a bigger size for the sleeves?? Maybe it was the curse of the pink jersey!?!
It's frustrating when things don't work out when you put so much effort and time into it but I'm not giving up completely. There are other design elements of this pattern that I'd like to try out and I have a couple other patterns that Rachel sent that I can work with. All hope is not lost and at least I used up all that darn pink fabric!