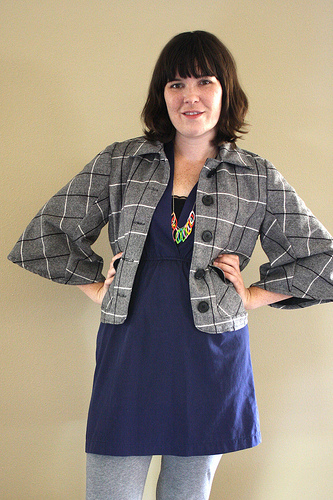 First Coat of the Season
Well, sort of. This is more like a slightly cropped, three quarter sleeve jacket, but since it never gets too cold in Texas, this counts as a coat!
Can you believe that with all my undying love for Wendy Mullin's designs that I didn't own this pattern (Simplicity 4109)? Now it is out of print so I tracked it down on ebay. There is another one of the Built by You coat patterns out there that I simply cannot find for less than $30, whoa!
I used this wool fabric that I bought at a recent estate sale and while I did "pre-steam" it ala Sewaholic's tips for sewing coats, I should have dry cleaned the fabric because it still smelled musty. Instead I dry cleaned the finished coat at an eco-cleaners in Austin (which I prefer to regular dry cleaning because they don't use such harsh chemicals and therefore it doesn't have that terrible nasty chemical smell that I despise).
I loved the pattern. It is a boxy shape (no darts or curves) so I know some might not like it but to me it's modern and it's a coat so I don't expect to look super svelte. I really liked the bell sleeves (cut on the bias) with the front facing seam (as opposed to a regular under arm seam). Some may not like the big sleeves either but it fits my style and I like how it shows off the plaid pattern.
The only change I made was to add a lining which was difficult for me because I rarely make linings. I worked with the facings included in the pattern so I had to cut my new lining pieces to fit. First I finished the raw edges of the facing with black bias tape, serged the edges of the lining, then layered the facings over the lining (wrong side to right side) and stitched through. If the wool hadn't been so itchy I could have gotten away without the lining.
I think the design is cute and different from a regular jacket or coat. It almost has the look of a cape and I think it would be cute in a heavy knit with an added hood.
I want to make the other version of this pattern maybe in a nice twill, something that I wouldn't have to line.
I love the Built by Wendy asthetic – sort of casual refined with modern cuts that are youthful and easy to make your own. Maybe I will shell out the $30 for that other BbW coat pattern? I suddenly feel the need to complete my pattern collection!
Have you ever sewn a coat or jacket? What is your favorite coat pattern? I'm looking to make a few different designs for this season.